[Home] [Philosophy] [What's New] [Products] [FAQ] [Feedback] [Order]
From The Desk Of Clarence Bass
If you enjoy and benefit from our website and products, tell your friends.

[Editor: The following piece on bodybuilding legend Ed Corney is a slightly edited version of the article originally posted in 1997. Ed is a little older now (aren't we all), but everything we said then still goes. His last competitive appearance was the Masters event at the 1998 Arnold Classic, but he continues to serve as a spokesman and ambassador for the sport of bodybuilding, doing exhibitions, seminars and fitness and posing consultations. What's more, we've just learned from first class bodybuilder and super webmaster Joel Brandwein that he has a terrific new website. Check it out. You'll find fascinating information about Ed, his career in bodybuilding, his training and posing philosophy—and wonderful and inspiring photos. Joel says they will be adding new features and photos on a regular basis. The new website URL is at the end of the article. Enjoy.]
Ed Corney, Still Great at 64
Arnold Schwarzenegger was the star of the movie Pumping Iron, but the person, who graced the cover and was arguably the overriding presence in the book Pumping Iron, the 1974 seminal work by Charles Gaines and George Butler depicting the bodybuilding sub-culture, was Ed Corney. As the authors of Pumping Iron might have predicted, Ed is still foursquare in the world of bodybuilding.
Ed Corney is not a big man, about 170 pounds, but he has no weak points, every body part is in proportion, and his ability to display his physique is nothing short of magic. As Charles Gaines wrote in Pumping Iron, "He poses flawlessly, flowing purely as water…emphasiz[ing] the perfect balance and clarity of his muscles…It is a balletic kind of posing that no one does as well…every movement is virile, spontaneous and pure."
Yes, Ed Corney had it all. You might say he captures the pure essence of bodybuilding.
We recently asked Ed what has kept him training – and excelling – for so long. Here's what he responded:
"Well, I guess you might say that I've been fortunate, to discover through bodybuilding the wonders of a healthy lifestyle.
"The vitality that results from proper nutrition and the proud aspect that regular training keeps you looking good, mentally, spiritually, and physically are the awesome benefits that have kept me motivated throughout the years."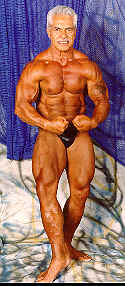 Here's a great shot of ED at 64.
Keep it up, Ed. We hope you go on forever. You're an inspiration to all of us.
For move details about Ed Corney's bodybuilding career - and what he's doing now - take a look at his new website: www.edcorney.net.

Ripped Enterprises, P.O. Box 51236, Albuquerque, New Mexico 87181-1236 or 528 Chama, N.E., Albuquerque, New Mexico 87108, Phone (505) 266-5858, e-mail: cncbass@aol.com, FAX: (505) 266-9123. Office hours: Monday-Friday, 8-5, Mountain time. FAX for international orders: Please check with your local phone book and make sure to include the following: 505 2669123
[Home] [Philosophy] [What's New] [Products] [FAQ] [Feedback] [Order]
Copyright © 2005 Clarence and Carol Bass. All rights reserved.