Bodybuilding Historian & Film Maker Recounts His Story
From Arnold's first appearance on the international stage in 1970 to the 2016 Arnold Classic Australia, Wayne Gallasch has been on the scene. NABBA Mr. Universe, IFBB Mr. Olympia, AAU Mr. America, Wayne's camera has been rolling. Other historians have written about and perhaps observed the sport of bodybuilding, but no one else has recorded it on film like Wayne Gallasch.
Interviewed on John Hansen's Bodybuilding Legends Show, Wayne relates his memories of filming the greats of bodybuilding. He tells how he began lifting weights in a local gym in Australia and ended up filming virtually every top bodybuilder in the world over the next 46 years. Wayne is a longtime friend, but we were amazed at the torrent of memories that streamed out of his mouth during the 78 minute interview. His recall and articulation is stunning.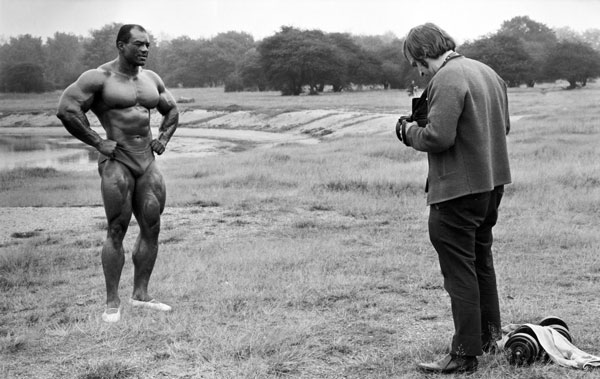 This iconic photo, taken from GMV's DVD "The Myth,"
shows Wayne photographing Sergio Oliva in a wetland area outside of London in 1972
As Wayne describes the epic battles between Arnold, Sergio, Bill Pearl, and Frank Zane, the controversial 1980 Mr. Olympia and on and on, his videographic recordings stream across your monitor. Not only does he capture events on stage, he records magic moments such as young Arnold and Franco posing and pumping by a pool and Frank Zane posing in a London park for three and a half minutes without repeating a single pose. Some years later, he narrates classic footage of the Mentzer brothers posing together on a California beach and Mike again the week before his untimely death, and the extremely popular Dorian Yates "Blood & Guts" workout video. And more recently, awesome footage of Ronnie Coleman lifting all-out in the gym.
Before he's done, you will have seen and heard about Casey Viator, Tom Platz, Kevin Levrone, Mr. America's Dale Adrian and Joe Meeko, Bertil Fox, women legends Cory Everson, Lenda Murray and Juliette Bergmann, and the one of a kind Kai Greene.
Wayne has filmed every Mr. Olympia, including Dorian Yates, Lee Haney, and Phil Heath. Wayne also worked with Larry Scott, the first Mr. Olympia, in the years after his landmark victory. You name them, and Wayne has him or her on film.
Wayne 43 years later on his video platform at the last Olympia
He also reflects on Bill Pearl's professional aura on stage and Arnold's ability to psych out his competition on and off stage. In their first and only real conversation (by the pool), Arnold said that he was destined to be famous.
Perhaps the most riveting commentary is Wayne's explanation--body part by body part--why he could see Arnold winning the much debated 1980 Mr. Olympia and why Chris Dickerson was a close second. He says Mike Mentzer probably should've placed third instead of fifth. Frank Zane was good all over, but not quite as big as the others.
If we didn't already know that Wayne has one of the sharpest eyes--and memories--in the world of bodybuilding, we know it now.
Interested?
Here's the link: https://www.youtube.com/watch?v=RKmjinM9A04&app=desktop
We carry both the Sergio Oliva "Myth" DVD ($49.94 + shipping) and the Dorian Yates DVD ($30. + shipping) We only have one copy of each DVD remaining (see videos) If you are interested send us an e-mail and we'll tell you how to order E-Mail

Romanian Journalist Does Three-Part Interview with Clarence
Clarence has just finished three wide-ranging interviews over three weeks with Vlad Ionut Coste.
"My dream is to help people to understand how the human body works and which are it's needs," Vlad told us in an email. "I want to promote the true legends of the sport, longevity, real information, realistic expectations and motivation of success stories. I hope in future to receive support from a large company to be able to expand my plan worldwide because richness is in health."
Sounds like a pipe dream, but we have come to believe in Vlad's mission. He's the real thing.
Coste is one of the most active interviewers on YouTube. His most recent interview subjects include professional sports climber Jurgen Reis and China Study author T. Colin Campbell, PhD.
The only son of a poor Romanian farmer, Vlad has been on his own since the age of 15. Now 10 years later, he has married and earned degrees in communication science and journalism. He is also the CEO of Power Tech, a company that specializes in plant based nutritional supplements. An active CrossFit competitor, his latest venture is opening his own CrossFit gym.
Homebodies, we began by locating Romania on our globe of the world and were eager to learn more. Vlad tells us that bodybuilding is practically a national sport in Romania. Their fitness centers rival those in any other country. Many professional bodybuilders have appeared there at one time or another. Needless to say, we are excited to build connections in Romania.
A unique feature of Vlad's interviews is that he provides about as much information as he elicits. His interviews are a two-way street. In spite of the 3-to-1 age difference he was at home with Clarence, offering his own views of modern-day bodybuilding, the fitness industry, and other health related topics.
Taken together the interviews are an overview of Clarence's life in fitness, including what he has learned over the last 65 years.

The first interview runs 43 minutes and introduces Clarence to Vlad's audience--and Vlad to ours. The focus is on big picture topics such as inspiration, documented record of fitness, changing perceptions of weight training, athleticism, longevity, health, current bodybuilding scene, genetics, anti-aging medicine, lifetime leanness, and help yourself. https://www.youtube.com/watch?v=hbQcmApNl8E
The second interview (58 minutes) is about Clarence's training and includes: Getting started, three Olympic lifts, the squat, home training, 1 to 5 reps, compare power lifting, Bob Hoffman and York BB, volume training vs single set, importance of rest, strength & muscle mass, physique competition, sodium and cuts, athletic points in Mr. America, Steve Klisanin, John Grimek, separation of lifting and bodybuilding, impact of CrossFit, indoor rowing rankings, ski erg, one minute sprints, stress and rest, whole body workouts, warm-up and 1 set, Keiser machines, move between workouts, keep trying to improve, workout frequency, building on success, goal setting, training and busy life, take care of yourself first, most relevant person in fitness. https://www.youtube.com/watch?v=RBJ5sSq1UNw
The third interview is the longest, 74 minutes. About the "How" and "Why" of healthy eating, it includes the following topics and more: Clarence's early interest in nutrition, Vlad's supplement company, when supplements are needed, protein supplementation the last thing most people need, pro and con of plant-based diet, importance of whole foods in weight control, importance of chewing, need for animal protein, lifting the limit on dietary fat, vegetable oil and triglycerides, eggs, fatty fish, whole milk over skimmed, omega 3 fat, sardines low on food chain, lifestyle and HDL "good" cholesterol, low fat diet and processed carbohydrate, fruit juice and Coca Cola, Clarence's coronary calcium level, CTA shows blood flow in heart, dietary cholesterol no longer concern, importance of fiber in unprocessed foods, whole fat dairy not fattening, breakfast biggest meal, avoid hunger, no food off limits, vegetable stew for lunch, nutrition-packed dinner salad, bedtime snack, uniform eating, intermittent fasting, water intake, avoid extreme diets, my way or the highway, find diet that suits you, don't stop at one diet book, never stop learning, PhD in nutrition, Vlad learned from obesity and health problems, free website full of science. https://youtu.be/bHIFTO7WLzI
Want to see Vlad compete in CrossFit--and win? https://www.youtube.com/watch?v=YLgOd-_P4Sc
July 1, 2016

Getting Fit in Memphis Spotlights Clarence
Longtime visitors will remember Yvette Smith from her eye-catching appearance on our Success Stories page. (SS 9, Contest Condition in Five Weeks) Following the advice on peaking for competition in RIPPED 2, she won the lightweight division in the 2006 Tennessee Bodybuilding and Figure Championships. (She also purchased a DVD on posing and wore our competition suits in both the pre-judging and the evening show.)
This photo shows the spectacular condition she achieved.
That is only a small part of her story. A successful personal trainer for 20 years now, she has an A.S. degree in applied Nutrition, B.A. in Exercise Science, and an M.B.A. with a specialty in entrepreneurial Technology. In 2009, she became an adjunct professor in the health science department at the University of Memphis.
After being featured as a personal trainer on Fox 13 News and Good Morning Memphis, she started her own TV show called "Getting Fit in Memphis" 17 years ago. Along with meal preparation, exercise and other things, she features clients she has helped, which include many doctors, attorneys, and even the mayor. Her four-year-old daughter Olivia has also become a popular guest.
There's more, but you get the idea. Her mind, her body, and lot of hard work have taken her a very long way.
We didn't know a fraction of this until Clarence began preparing to appear on her show.
As you'll see, Yvette asked very good questions and gave Clarence time to answer fully; it may be the most comprehensive interview he has done. The photos inserted as the interview progresses were well-chosen and added perspective.
You can watch and listen to all 28 minutes: https://youtu.be/rd890S1RpJQ
We hope you enjoy it as much as we did.
PS: You'll also find other recent segments of Yvette's TV show nearby, including one with her live-wire daughter.
April 1, 2016

STILL RIPPED--And in FLEX
Author Mark Barroso did Clarence proud by including just about every topic they discussed, along with two photos taken 30 years apart to highlight the longevity theme--on one page.
With a multi-generation age gap separating them, we feared a breakdown in communication. But Mark soaked everything up like a sponge and organized it brilliantly on the magazines' "Over 40" page. The only slip-up was putting the Cooper Clinic in California.
Clarence was honored to be in the same issue with contemporaries Dave Draper, Serge Nubret, Albert Beckles, and Leroy Colbert, along with the modern day behemoths. How things have changed!
Thank you Mark and FLEX! We look forward to working with you again.
March 1, 2016

FLEX Interviews Clarence
We were pleased and surprised to receive an interview request from FLEX Associate Editor Mark Barroso. He later told us that Editor-in-Chief Shawn Perine suggested Clarence for their "Over 40" page. This was a surprise because we've had no direct contact with the stable of magazines launched by Joe Weider since Clarence stopped writing his RIPPED column for Muscle & Fitness in 1996. (We have had contact with Joe and Betty Weider, but no one at the magazines.) Shawn Perine is a serious trainer and we are pleased to know that we are on his radar.
Mark Barroso, also a Contributing Editor at Men's Fitness and Assistant Editor at Muscle & Fitness, is clearly a man on the way up in journalism. We sent him a narrative description of Clarence's training and sample strength and aerobic workouts, along with two photos. Clarence and Mark then talked for about an hour. Clarence had a lot to contribute about the growing importance of training after 40, when decline begins in earnest for the untrained person. Every subject seemed to lead to another.
We are eager to see how FLEX boils it all down to a single page. We know that Mark will do his best to tell readers what has kept Clarence training at a high level for so long--and how they can benefit from his example.
The February 2016 issue with the piece on Clarence will be on newsstands near the end of January, so we'll soon know.
Our thanks to Mark and Shawn and everyone at FLEX for reaching out to us.

Power-Quest Features Clarence--Again
Sports climber and prolific podcaster Jurgen Reis and Clarence connected once again on December 2, 2015--morning in Albuquerque and evening in Austria. It was their third Christmas season interview and the ninth overall.
Jurgen visited with us in 2007 and we have been in regular contact since then. You can read about him on our Fitness Personalities page: http://www.cbass.com/JurgenReis.htm
Jurgen combs the world for interesting sports personalities to interview. He and strength expert and sports reporter Dominik Feischl man Europe's biggest and most ambitious fitness podcast. Launched in November 2007, Power-Quest.cc has averaged a new podcast every five days.
With so many to choose from, one can't help but wonder why they keep coming back to Clarence. We don't have the answer, but we can tell you that Jurgen does his homework and comes to each interview with an infectious enthusiasm. With Clarence, he focuses mainly on the recent past and the future. This time around, he got Clarence to talk about a serious injury that he has not felt comfortable discussing previously. Always the optimist, Clarence has found a way to make the rehab process energizing, rather than an impediment to his training.
To learn about that and much more, log on to the 45 min interview. The introduction is in German, so you'll have to fast forward to the interview which is in English: http://download.power-quest.cc/PQ-podcast538.mp3
Here's another marvelous photo of Jurgen on the climbing wall: