[Home] [Philosophy] [What's New] [Products] [FAQ] [Feedback] [Order]
What's New And Other Stuff (2)

Clarence Receives Honorary I. A. R. T. Certification
Brian D. Johnston, co-founder and president of the Canada-based International Association of Resistance Trainers, an educational institute offering certification and resources in exercise and nutrition science, announced on September 19, 2001, that the I. A. R. T. has issued its first set of honorary certifications "based on life experiences and contributions to exercise science and research with intellectual fortitude, ethics, and standards of quality." Clarence was one of those to receive the certification. The others are Greg E. Bradley-Popovich, Matt Brzycki, Arthur Jones, Tom Kelso, Stuart McRobert, Ken Mannie, Dave Smith and Richard Winett. For further details visit the I. A. R. T. site (www.iartonline.ca/database/honorary.html)

Clarence Receives Outstanding Graduate Award
The Albuquerque High School Alumni Association, as part of its Millennium celebration, combed the list of graduates since the school opened it doors on Sept. 7,1891, and selected 325 to receive awards for distinguished achievement. The people recognized spanned the school's 109-year history, starting with a man who received his diploma in 1893 and ending with a 1993 female graduate. As you might imagine, the people recognized were from all walks of life and included artists, athletes, doctors, business people, educators, government officials, lawyers, military men and women, politicians and writers. It was an amazing group. Clarence's combination of law and muscle building may have been the most eclectic, however. He was near the top in baldness as well. Seriously, we were all delighted with the award.

Pavel Visits Albuquerque
Our friend Pavel Tsatsouline, the Russian born and trained exercise physiologist who just released Bullet-Proof Abs (the second edition of his book Beyond Crunches), returned to Albuquerque a few weeks ago to speak at Sage Ways Lifelong Learning Center. Carol and I attended all three of his presentations, which are loosely based on his books – and were very favorably impressed. He's a good speaker and relates well to a mixed audience of all ages. Peppering his talks with droll Russian humor, he invites questions and encourages heavy audience participation. He had little old ladies (and men) stretching and doing ab exercises right along with the younger members of the audience – and everyone seemed to enjoy the experience. The sessions, each lasting two hours, flew by. If Pavel comes to your area, don't miss the chance to participate in his seminars. You'll learn a lot, whether or not you've read his books. It's clear that he walks his talk, because he flawlessly demonstrates the moves shown in his books; his side split is especially impressive.

Carol's camera captures one of Pavel's trademark gestures.
After the last seminar, we showed Pavel around Ripped Enterprises, where my office, our mail order operation and weight gym are located, and then had him to our home for conversation and dinner on our back porch. Pavel was charming, as always; he didn't seem a bit tired after doing six hours of seminars. I enjoyed showing him my form on the Ab Pavelizer, which had arrived a few weeks earlier. I guess my practice sessions paid off, because The Master only had a few helpful suggestions.
We also learned that he and wife Julie will soon be leaving the cold Minnesota winters behind and relocating in Southern California, where they will be in the thick of the bodybuilding scene and near LAX for quick flights to his seminar presentations around the country. Carol and I would not want to live in California (as the saying goes, it's a nice place to visit, ....), but we know that Pavel and Julie will make new friends right and left and find many new opportunities. We wish them the very best on the big move. Obviously, we'll all be reading and hearing a lot more about Pavel in the near future.
We look forward to learning all about it during their next visit with us here in Albuquerque.

Clarence Gets Coverage on Home Turf
Calling him a modern-day Dorian Gray, the literary character who stayed young while his portrait aged, New Mexico's largest newspaper, the Albuquerque Journal, recently featured Clarence on page one of the sports section. Set off by a color physique photo of Clarence at 60, the article by assistant sports editor Rick Wright, was titled "A Ripped-Roaring Time in Fitness, Health." It was a long story, covering everything from Clarence's first set of barbells, purchased by his father, to his eight books and this Website.
The response has been amazing. It seems like everyone saw the article, from Clarence's neighbors, to his barber, to complete strangers. "It blew our cover," says Clarence. "People who Carol and I have been waving to for years, have been running up to us on the street and saying things like, 'I read about you in the paper. Why, I didn't know you were famous.'"
I guess Clarence is on a roll, because a month or so later he was the cover story in Prime Time, a monthly magazine "For New Mexicans 50 Plus." His photos, a large casual shot sitting on a huge boulder in the foothills above Albuquerque and a smaller one showing his physique, occupied the front of the large-format publication, with the title "The Peak of Fitness."
It was truly gratifying to receive such glowing coverage on home ground, because everyone knows that an expert is generally someone from out-of-town. Both stories are now framed and hang on the wall of Clarence's office at Ripped Enterprises. If you ever get out our way, drop by and see them.
In a Word
A visitor to this Website emailed a few days ago that the word "Ripped" is no longer adequate to cover what Clarence is about. We found his reasoning thoughtful and interesting and believe others may as well. The email is reproduced below. Does he have a point? Let us know if you can come up with a more descriptive and inspiring word or phrase for what Clarence does and tries to help others do as well.
Dear Mr. Bass:
Don't you think it's odd that there's no word for what you do, or what you've achieved? It's not bodybuilding, strictly speaking, because you're doing far more than achieving maximum muscularity and leanness. That's not even your goal. If it were, you'd be using steroids. You're doing what everyone should do, and it's so unusual there's no word for it. If we had a properly defined word for perfect health (which, of course, is far more than an absence of the signs and symptoms of disease) and total fitness (including not only a drug free bodybuilder's physique but strength, cardiovascular fitness, bone density, balance, and the rest) people would have a clear concept of it.
This occurred to me when I read the column about your interview with the writer who was working on an article about men who try to look younger than they really are. Until you explained it to him, the writer hadn't distinguished your lifestyle from that of the men who get plastic surgery and wear makeup, wigs, and girdles. People write about reversing the "aging process" through diet and exercise, when it's deterioration, not age, that they're really referring to. The same is true with the idea of "weight loss," when it's leanness, not weight, that's important. Our thinking is limited by our vocabulary. Mark Twain said the difference between the right word and the nearly right word is the difference between the lightning and the lightning bug.
I can't think of anyone better qualified than you to coin a word for maximizing one's potential for lifelong leanness, health and total fitness. "Ripped" suggests leanness and muscularity, but not the rest.
Do you agree?

Tough Reviewer Gives Challenge Yourself Five Stars on Amazon.com
Michael D. Burke, a former manager (and creator) of one of the three largest fixed income funds in the country, and a discriminating and demanding reader -- and reviewer -- in fitness and other fields, says, "I would prefer to love every book I buy, but I feel I should warn other potential buyers" when I find a book wanting. Fortunately, he also likes to tell people when a book meets and exceeds his expectations.
Check out his reviews of Challenge Yourself on Amazon.com (go see). To understand why we are especially pleased with his review, take a few minutes to read his other reviews on Amazon.com. You'll see that Burke is a take-no-prisoners reviewer.
He calls our book: "The best of the current fitness books. Must reading."
Thanks Mike, for going public on our book.

Muscle & Fitness Lauds Challenge Yourself
In its May 2000 issue, Muscle & Fitness calls Challenge Yourself "A new to tome for the muscle lover's library."
Reviewer Joe Kissell captures the essence of the book. While it's "ostensibly" about training and diet, says Kissell, "it's really the story of... a man who lives by the belief that you start getting old the moment you stop striving and growing."
After discussing the contents in detail, Kissell concludes that "Challenge Yourself succeeds in the way all good books do: Even after you've put it down, Bass gets you thinking about your diet, the way you train, and even the way you live your life."
Joe Kissell obviously took the time to read – and understand-- our book, and we appreciate it. Thanks to everyone at Muscle & Fitness.

Packers' Coach Confers with Clarence
Barry Rubin, our longtime friend and now the head strength and conditioning coach for the Green Bay Packers, spent the second weekend of February with Clarence discussing the Packers off-season training program, which will began early in March. After several years as assistant strength coach at Green Bay, Barry moved up to the top spot last year, when Ray Rhodes became coach; Mike Sherman, who just replaced Rhodes, recognized Barry's abilities and kept him on the job. This is Barry's third trip to Albuquerque to talk training with Clarence, but the first time they've focused on a training program for the football team.
Barry was especially interested in a number of topics. For example, he was intrigued by Pavel Tsatsouline's theories on dynamic stretching and functional ab training; he took all three of Pavel's books and his video back to Green Bay. He also plans to incorporate some aspects of the whole-body weight routines described in Challenge Yourself in the Packers training regimen. Like Clarence, Barry believes that the explosive strength developed by doing squats, deadlifts and quick lifts such as the power clean, all exercises which make up the core of the whole-body routines, transfer to the football field. In a related area, he and Clarence believe that the high-intensity aerobic routines described in Challenge Yourself have application, because the work/rest intervals closely parallel the stop-and-go rhythm of a football game.
Clarence and Barry, who weighs a rock-solid 225 pounds at a little over six feet tall, topped off their meeting with a high-intensity aerobic workout in our home gym. Both did hard intervals at a 25 percent grade on the treadmill, followed by 45-second intervals (with 60-second rest periods) on the Concept 2 Rower, and concluded with the Tabata protocol (20 seconds work/10 seconds rest) on the Schwinn Air-Dyne. The Packer's gym already includes treadmills and Air-Dynes, and Barry liked the whole-body effect of the rowing motion so much that he may be adding the Concept 2 to the Packer's arsenal soon.
Comeback soon, Barry, we loved having you in our home.
*********
Clarence makes the cover!
Brian Johnston, the editor and publisher of Fitt Quarterly liked the photo of Clarence on the front of our new book so much that he put it on the cover of his fall 1999 issue. Johnston called it, "our best cover to date."
Inside is an informative profile of Clarence and an insightful review of Challenge Yourself by Kevin Fontaine, Ph.D., an assistant professor of medicine at Johns Hopkins School of Medicine. "Clarence has done it again!," says Dr. Fontaine. "He has written still another book that informs, teaches, and inspires us all to strive to maximize our potential for health, fitness, muscularity and longevity."
UNIVERSITY HONORS CLARENCE AMONG 100 "UNM BEST"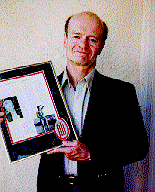 In celebration of its 100th anniversary, the University of New Mexico Alumni Association has chosen "100 Alumni Faces" who carry with them "UNM's best efforts at making the world a better place." Notifying Clarence that he was one of the 100 chosen from more than 100,000 graduates to be profiled in the 100th edition of the Alumni magazine, Alumni Association President Sandy Seligman explained the selection criteria:
"We tried to focus on nominees who live their lives in a better way because of their UNM education. That might mean they pursue a worthy and significant career. It might mean they thrive upon an ongoing thirst for knowledge. It might mean they glean insight and wisdom from an open and interested mind. It might mean they inspire others because of their actions and attitudes."
Those selected are a diverse and impressive group. Starting with educator Charles Hodgin, a member of UNM's first graduating class (1894), the 100 faces include a Southwest historian known as "New Mexico's first lady of letters," a career diplomat who helped open up relations with China, a US Secretary of the Treasury, a famous author and environmentalist, a noted Native American architect, a Dallas Cowboy running back, a female Justice of the New Mexico Supreme Court, a Native-American rights lawyer, an advocate for the homeless, a curator of photography at the National Gallery of Art in Washington DC, a prize winning writer of children's books, and a world-class New York Metropolitan Opera tenor.
We are delighted to have Clarence among these accomplished alumni recognized by their alma mater.
Date Set for Video Shoot
The basic outline of the video is complete and shooting will begin the last week of September.
Wayne and Tina Gallasch are already working on some historical photos which will be included and we have located some film of Clarence doing the Olympic lifts more than 30 years ago. If will be interesting to compare Clarence then with the modern-day version. We are eager to see that ourselves.
The Gallaschs will be spending the week with us so there should be opportunities for some candid views of the Ripped lifestyle, which should be fun and, hopefully, informative.
In preparation to show to his 65-year-old physique to best advantage, Clarence has tightened up his diet a little and added some extra minutes to his daily walks. He's also working on a few new poses and polishing some old ones.
He's preparing for the training segments, of course. Among other things, safe pulling techniques for the quick lifts, interval training on the Concept 2 rower and the Air-Dyne, and some stretching will be included.
The training will be the real thing, not just going through the motions for the camera. This creates the interesting problem on how to explain what he's doing and still concentrate on performing at a high-level. He'll probably do some explanations on the spot, but mostly voice over. We've never done this before and it will be an interesting challenge.
We've heard from quite a few people about the video and know many are eagerly anticipating the final product. We are as well. Doing something new is always exciting.
Wish us luck.

Ripped Revisited – by Ironman
The September 2001 issue of Ironman magazine features in an eight-page Q & A with Clarence, including 11 great photos. The article is also highlighted on the cover: "1 PERCENT BODY FAT! How Mr. Ripped Does It."
Freelance writer and certified kettlebell instructor Mike Mahler asks Clarence about training to failure, combining weights and aerobics, low-carb diets, proteins requirements, high-intensity training – just about everything bodybuilders want to know.
Great job Mike! Thanks.
Ironman has been following Clarence for years. He was last featured in the Aug. 98 issue.
Ironman founders Peary and Mabel Rader were the first to carry Clarence's photos and articles, starting way back in the 60s. The new publisher, John Balik and Editor in Chief Steve Holman have continued to cover Clarence in the magazine. Steve tells us that they may be back for a follow-up soon.
Thanks to everyone at Ironman. We'll do our best to merit continued interest.

Video Scheduled for Filming
Many people have to ask us for a video, and we've finally decided the time is right.
Longtime friend Wayne Gallasch, the famous Australian film and video maker, and his wife Tina are coming for a visit in September. In the course of exchanging emails, the subject of a video came up. To make a long story short, we decided to enjoy having Wayne and Tina as our guests, and at the same time take advantage of the opportunity – and their expertise -- to make a video.
When Wayne visited with us in 1983 – we became acquainted in the 1970s when both of us were writing for Peary and Mabel Rader's Ironman magazine -- he took wonderful photos which are included in several of our books.
Wayne has been traveling the world and making bodybuilding films and later videos for over 35 years -- the first big event he filmed was the 1970 Mr. Universe contest in England -- and has built up a vast library, which he sells from his base of operation in Adelaide, Australia. You can visit him online: www.gmv.com.au.
We're in the early planning stages, but we all agree that the world doesn't need another video on training body parts. We want to do something different, more diverse and interesting – something unique to our areas of the interest.
We've tentatively decided to focus on topics we are often asked about and are difficult to cover adequately in a book. We want content that will add value to our books, topics that give life to the axiom, "a picture is worth a 1000 words." Subjects we have in mind include: preparation of a meal illustrating the Ripped diet philosophy, general and specific warm-up, tracking changes in body weight and fat, doing the quick lifts safely, demonstrating the Tabata protocol and our favorite abs exercises. No doubt, we'll be debating "what and how" up to the day of shooting.
If there are things you'd like to see in the video, let us know. We'd welcomed your suggestions.
We've always said we wouldn't do a video unless we could do one of the same quality as our books. That's a tall order, we know. With the expertise of Wayne and Tina Gallasch, hopefully we can approach that standard. We don't expect to be perfect the first time, but we're going to try hard to meet the challenge.

Ripped Crosses Rare Milestone

Ripped, our first book, published in 1980, will go into its 10th printing early in 2002. It's a record achieved by very few bodybuilding books, especially those published by an individual. Bill Pearl's Keys to the Inner Universe is probably the only self-published bodybuilding book to eclipse our record, which puts us in pretty good company. Information like this is, of course, private and hard to verify, but it's safe to say that Ripped has proven to be a timeless book.

From the very first printing, many people told us that Ripped was the best book in the entire bodybuilding field. Peary Rader, the highly regarded founder and publisher of Ironman magazine, called it "the most remarkable book of its kind [he] had ever read." Joe Weider said it was "a superb text for people who want to lose body fat and retain muscle tissue – men, women, fitness-minded individuals and competing bodybuilders."

Ripped meticulously explains the trial-and-error process Clarence used to achieve 2.4 percent body fat and win his class in the Past-40 Mr. America and other national competitions. The fact that it's selling well more than 20 years later suggests that what people said early-on may still be true.

It's a record of which we are extremely proud – and grateful.

Laszlo in Town for Visit and KB Workout
Our friend Laszlo Bencze (see articles #52 and #67) was in Albuquerque recently on a photo assignment for the defense electronics company Rockwell Collins and stopped by for a visit. It was the first time we've met face-to-face in about 30 years and it was wonderful to see him. Now 55 and built like a fire-plug at five-feet-10 and a little over 240 pounds, he looks like the lifelong lifter that he is. Plus, he converses as well as he writes, and those who have read his pieces on this web site will know that's saying something.
Laszlo and I had planned a kettlebell workout and he chatted with Carol while I got ready. He and Carol had never met and they took the opportunity to get acquainted and discuss their mutual interest in photography. Laszlo showed her one of his portfolios and talked about his assignment for Rockwell Collins. He was asked to take photos at the Albuquerque international airport to produce a dramatic effect for their annual report. The picturesque mountain background at the Albuquerque Sunport makes it the perfect place to produce the desired effect – which they probably don't want revealed prematurely.
As mentioned in the intro to his first article, Laszlo is known as a master of location photography. Rockwell Collins brought him to Albuquerque and paid him a handsome fee to take a series of photos to be molded into a collage for the cover of their annual report. Laszlo's reputation and experience made him just the man for the job.
As regular visitors know, I'm relatively new to kettlebell lifting (see article #72) and Laszlo had never tried it before, so it was a little like the blind leading the blind. Nevertheless, all things considered, we did pretty well and had a good time. Laszlo snatched the big kettlebell (32 kilos) 15 reps with his left arm and after a brief rest repeated with his right arm. As anyone who has tried it will know, that's darn good lifting, especially the first time out of the box.
I can't manage the Big Daddy with one arm, but Laszlo inspired me to a new PR with the midsize KB, which weighs a very compact 24 kilos. I snatched it eight reps with my right arm – two reps more than I had done alone – but I was happiest about making it with my left arm. As some of you will remember, I have some weakness in my left shoulder; I injured it doing a barbell jerk in my Olympic lifting days and it has bothered me ever since.
Until this workout, I had not been able to navigate the big jump from the small KB (16k) -- which I've snatched for 20 reps – to the midsize weight with the left arm. I'd been trying to bridge the gap by practicing with Powerblock dumbbells and had worked up to six reps on the left with 60 pounds, which is about seven pounds heavier than the middle kettlebell. You need to do more weight with a dumbbell than the kettlebell, because the kettlebell must be pulled substantially higher to compensate for the distance from the handle to the bottom of the kettlebell. Pavel explained the difference when he was here, but you have to try both to appreciate how much harder it is to snatch the kettlebell. The problem, of course, is that the kettlebell must be pulled high enough to flip over at the top and come around on the back of the arm.
I wasn't planning to try the middle kettlebell with my left arm. But I wanted to do six reps with 62 ˝ pounds using the Powerblock, and with Laszlo watching it went easier than expected. With that success under my belt -- and spurred on by the sight of Laszlo manhandling the big kettlebell – I decided to have a go at the middle kettlebell with my left arm. To my delight, the weight came off the floor nicely, accelerated as it passed my knees, zoomed past my head and rolled over at the top nice as you please. What's more, the first rep went so well that I did two more reps from the hang.
If you knew how heavy -- and scary -- that middle bell felt the first time I tried it with my bad shoulder, you'd understand how happy I was to finally make it, and a little ahead of schedule -- thanks to having Laszlo there to inspire me.
It was great fun having you, Laszlo. Please come back soon.

Ripped Enterprises, 528 Chama, N.E., Albuquerque, New Mexico 87108, Phone (505) 266-5858, e-mail: cncbass@aol.com, FAX: (505) 266-9123. Office hours: Monday-Friday, 8-5, Mountain time.
Copyright©1996 - 2015 Clarence and Carol Bass. All rights reserved.
[Home] [Philosophy] [What's New] [Products] [FAQ] [Feedback] [Order]