Fired-up by Gains After 60
Dear Clarence:
After visiting you late last year [2002] I received two separate inspirations. One was to move out of my comfort zone with weights and cardio training and secondly to consider the Concept 2 age-based world rankings for indoor rowing as a goal-setting vehicle for self improvement. Although I have been weight training for 40 years, I had never touched a rower apart from an occasional warm-up before a workout.
Due to my constant travel to video tape contests around the world, I was not able to do any serious training till February of this year and that was on the road between contests. I thought I was pretty fit due to years of jogging and some Airdyne training, so imagine my shock when I discovered how hard rowing really is. The first time I attempted 500 meters in February after a couple of days rowing, I couldnít break 2 minutes. My time was a terribly slow 2:03.0.
This really got me interested as I love a challenge. I had some reservations at first that I would not be able to make much progress at my age of 60. In these rankings you will find men who have been rowing for many years and quite a few of them have no doubt been top notch water rowers. By early March, however, I had broken the 2 minute barrier and really felt encouraged to push on.
My training in the gym had also moved out of maintenance mode into "Challenge Yourself mode" with periodization training where you are pushing ahead to harder mini goals, reaching them and moving on again. I had not trained this way before. Tina, my wife, trained along with me. Improvements continued to come for both of us, in the weights we were using and in rowing times.
For example, my squat poundages increased by 60% and similar increases have taken place in the bench press and deadlift. I had not done heavy squats and deadlifts since retiring from power lifting 30 years ago. I thought my days of competition and real improvement were over!
Tina, who is 56, had never done squats and deadlifts. She actually likes both.
It was time to see if our rowing progress was a short term flash in the pan or the real thing.
Our home rower didnít have a proper monitor, so we went to a public gym with a Concept 2 rower for another test.
This was in late April, just before I left Australia to cover some bodybuilding events in Europe, where I am now. Imagine our joint excitement: My 500 meter time improved by 11 seconds, and Tina improved by 9 seconds.
This really fired me up for more improvement. I managed to find a gym in Essen, Germany, and get in several good workouts. They didnít have a rower, but plenty of weights. Now I am in England and fortunately found a gym in Cambridge with 5 Concept 2 rowers. Over the last 2 weeks I have been training hard, lots of Tabata intervals on the rower. This is my last day at this gym before moving on to some new unknown gym up in the north of England. So it is now rowing D-Day, 1 week before my 61st birthday.
Success!
Iím very pleased to be able to post online a 500 meter time of 1:41.9. This is an improvement of 4.6 seconds on my effort one month ago and ranks me (temporarily) # 1 in the Concept 2 World Rankings as a lightweight, or 5th overall in my age group. [Times for current year ranking can be submitted through April, 2004.]


As you probably guessed by now, Wayne and Tina are the co-producers of our new video.
This photo shows them with their ever-present smiles -- and camera. They hadn't started serious training.
All this goes to prove that whatever age you are you can make substantial and steady improvement. It may not be that you will bench press more than you did when you were 25. But there are many different areas you can explore to find ways of self improvement both in rowing times, or in weight used, or reps achieved with different weights. The possibilities are endless. I plan to go on improving in different areas for as long as I can get into the gym. Whatever I achieve I always feel I can beat it next time! This sort of competition gets the best out of yourself and, as you say, you don't have to be # 1 in the world rankings to be a winner.
Tina has also gone up remarkably well in training poundages and improved in her rowing times, where she is presently #2 in Australia in her class.
Thanks Clarence for the motivation and inspiration. We both have a new perspective on training, on diet and on life. We plan to train hard and smart and preferably in a stable environment, not always while living out of a suit case!
Kind regards,
Wayne Gallasch
Australia

www.gmv.com.au
Special Update: On June 4, 2003, a few days after this letter was written, Wayne served notice that he will not easily give up his first place ranking for lightweights 60 to 69. Making another quantum leap forward in his short rowing career, he posted a terrific 500-meter time of 1:38.3. He's now more than 8 seconds ahead of the current second-place time and not far from the best time posted last season. He's set his sights on 1:35 before Christmas -- and we wouldn't want to bet against him. Congratulations Wayne! We'll be watching with great interest.
Wayne, back home in Adelaide, looking fit and strong on his spanking new Concept 2. His new-found enthusiasm for rowing is remarkable and his progress amazing. He plans to compete in the British Indoor Rowing Championships on November 15. Go, Wayne, go!

Patience Key to Losing Last Stubborn Fat Deposits
Dear Clarence:
I want to pass on my recent experience which may be encouraging to some of your other readers. In just over two years, I have lost about 55 pounds and my waist is now 29 inches. My weight was 210, and itís now 155-157. The first 45 or so pounds were lost steadily in one year, while the last 10 have taken a little over 10 months.
I have been following a very healthy eating plan (donít count calories, avoid refined carbs, and eat whenever Iím hungry, about 2700-3000 calories) consistently, except for an OCCASIONAL splurge, for the last year or so--lots of lean meat, fruits, veggies, and whole grains. I was getting discouraged because despite being quite lean, as of about 3 months ago, I still had vestigial pockets of fat at the sides of my waist, and a flat little "donut" around my navel. In the last three months these fat deposits have begun to gradually shrink. I donít think Iím imagining this, as this feedback is coming from others, and is visible in photos taken over time. My pants are also looser at the waist. I'll soon be 37 years old and being able to see my abs for the first time in my life is a real kick!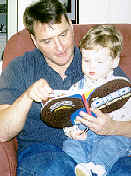 Before, with handsome nephew Andy. "I would never take my clothes off for the camera in that condition," says Paul. "But my over weight condition is obvious even with my clothes on."
After. Some change! Paul says he still doesnít look like a bodybuilder, but we think he does.
I have not made any changes in my training Ė weights three times a week, split routine, and 10-15 minutes of high-intensity intervals once a week Ė or eating approach during the last few months, so the only conclusion I can make is that losing "those last few pounds" in stubborn areas (sides of the waist, and navel area for guys, hips/thighs for women) simply takes a lot of time and patience. I believe CONSISTENCY and TIME are the most important factors. You probably get lots of questions from readers who just canít seem to lose those last stubborn fat deposits. I know genetics will govern the ultimate degree of leanness one can achieve, but folks need to know that losing large amounts of fat, to the point of being very lean, may take years, and there's no need to rush. Thanks again for all the great info.
Paul Bartels
Decatur, GA
Clarence--sorry, forgot an important piece of info. In spite of losing 55 lbs I don't have any loose skin anywhere--I know that is a problem for some. I think the reason (in addition to lucky genes, I guess) is that I lost slowly. As you no doubt know, skin loses much of its elasticity after about age 30. One more reason to go slowly.
Later, Paul

Ripped Enterprises, P.O. Box 51236, Albuquerque, New Mexico 87181-1236 or street address: 528 Chama, N.E., Albuquerque, New Mexico 87108,
Phone (505) 266-5858, e-mail: cncbass@aol.com,
FAX: (505) 266-9123.
Office hours: Monday-Friday, 8-5, Mountain time. FAX for international orders: Please check with your local phone book and add the following: 1-505-266-9123
[Home] [Philosophy] [What's New] [Products] [FAQ] [Feedback] [Order]
Copyright © 2006 Clarence and Carol Bass. All rights reserved.