USA only. We do not ship internationally.

For more information, reader feedback and reviews on all three Ripped DVDs, GO
Ripped the DVD
This DVD, the first of three, complements our eight books, demonstrating things people have asked about, things that are difficult to explain adequately in a book. Clarence shares the knowledge gained from his lifetime quest for improvement.
DVD - Running time 89 minutes, $34.95 + $6.60 priority shipping or $4.60 media See below for special on the first and second DVD, $62.95 + $6.70 shipping or $4.60 media.
The Second Ripped Video/DVD
Running time 97 minutes, $34.95 + $6.70 priority shipping or $4.60 media. Please specify Video or DVD. Special: both the first and second RIPPED Video or DVD, $62.95 + $6.70 priority shipping or $4.60 media.
The Third Ripped Video/DVD
The principles discussed and illustrated here are the ones that have kept Clarence training to improve long after many others have lapsed into maintenance training or given up altogether. Completely different, our third video/DVD is about motivation, the sine qua non of all successful training efforts. No worthwhile fitness goal can be achieved without motivation. Using real life stories, we show you how to stay motivated year after year. Running time 53 minutes, $34.95 + $6.70 priority shipping or $4.60 media. Please specify video or DVD.
SPECIAL: All 3 videos or DVDs for $94.95 + $6.70 priority shipping or $4.60 media OR Two RIPPED Videos or DVD, $62.95 + $6.70 priority shipping or $4.60 media. To place order go to ordering page


Beyond Crunches Companion Video or DVD: BEYOND CRUNCHES: Hard Science. Hard Abs.
As Clarence explains in "The Hardest Sit-up" (article No. 47 on home page), the Janda sit-up, which is the core exercise in Pavel's program for building "bullet-proof abs," is difficult to learn. In this much-needed video, Pavel demonstrates step-by-step how to master the Janda sit-up, with the help of a training partner or using his patented Ab Pavelizer device. See the iconoclastic and dynamic Russian in action doing the Janda sit-up, Saxon side bends, Bruce Lee's favorite the Dragon Flag and the other unique – and very effective – torso builders described in his book. Clarence found this video very helpful. It's a wonderful complement to Bullet-Proof Abs. The book explains the theory and the video shows the actual performance. 37 minutes. $29.95 plus $6.70 priority or $4.60 media


The Classic Collection Volume One of Rare Bodybuilding & Weight Lifting Films Video only left
Take a trip back in time to the Golden Days of the Iron Game and see the greatest muscle legends pose and lift. See John Grimek posing and doing muscle control, John Davis making history lifting the famous Apollon train wheels, Otto and Pete Arco doing their famous muscle control and hand-balancing act, and much more.
Lifting aficionados will love this rare black & white footage. Background music has been added, but there's no commentary and very few captions to identify the old timers shown. Those with the necessary historical perspective--and some newbies--will love seeing Steve Reeves, Reg Park, Bill Pearl (posing in park, long segment), John Farbotnik (posing and muscle control), George Eiferman (posing and muscle control), Marvin Eder, Lud Shusterich, Vic Nicoletti, Ed Jubinville (muscle control), Reg Lewis, Clarence Ross, Siegmund Klein (posing and muscle control), Leo Robert, Ed Theriault, Alan Stephan, Jack Delinger, Melvin Wells and others posing; and John Davis, Norb Schemansky, Doug Hepburn, Steve Stanko, Bob Hoffman (doing bent press), Dick Bachtell, Frank Spellman, Dave Sheppard, Joe De Pietro, Jim Bradford, Clyde Emerick, Pete George, Jim George, Chuck Vinci, and Tommy Kono lifting, along with famous Egyptian and Russian lifters. It's truly a dream lineup! How many can you spot? (Many of the champions are identified on the back of the video case in the approximate order in which they appear.) Sixty minutes, Black & White with background music added, Video, $39.95 plus $6.70 priority shipping or $4.60 media.

ENTER THE KETTLEBELL! (Strength Secrets of the Soviet Supermen) by Pavel DVD
This DVD delivers a significant upgrade to his original landmark work, The Russian Kettlebell Challenge. Drawing on five years of developing and leading the world's first and premier Kettlebell instructor certification program, and after spending five years of additional research into what really works for dramatic results with Kettlebells. DVD demonstrates basic lifting techniques, stressing safety, with emphasis on the clean, snatch and press. Learn from the Master himself. See and hear the one-and-only Pavel teaching and lifting, a not-to-be missed trip.
DVD, 46 minutes, $29.95 + Shipping ($4.60 media or $6.70 priority)

Keys To Weight Training For Men and Women (Video or DVD)
Bill Pearl is the on-screen trainer in this video for beginning weight trainers, guiding you through three progressive free-weight routines and a selection of machine exercises featuring ordinary people as exercise models. There is a 20 page handbook and exercise logs included with this award winning video, which has motivational tips and guidelines for creating your own custom routines. If you're looking for a video to help you get started, this is it. Recommended for beginners. $19.95 + $6.70 shipping priority or $4.60 media.

KETTLEBELL SOLUTION FOR SIZE AND STRENGTH by Mike Mahler (DVD)
This amazing DVD, filmed on a beautiful California beach, is packed with ninety minutes of essential information on getting bigger and stronger with kettlebells. Mike Mahler, a strength coach and Senior Kettlebell Instructor, uses kettlebells as his only source of strength training. He mastered the basics of kettlebell training and wanted to take it to a higher level. He was big and strong before he made the change and he's bigger and stronger now. Weighing 195, he can now press and snatch two 88-pound kettlebells—for reps. In the DVD, he shows you how he got there. He explains and demonstrates eight primary kettlebell exercises: Double Military Press, Double Bent Over Row, Double Floor Press, Double Front Squat, Double Windmill, Turkish Get-up, Double Swing, and Double Snatch. Taken together, these movements work the whole body. Frankly, just seeing him do these exercises with a pair of 70-pound Kettlebells is worth the price of the DVD. You don't have to use that much weight to benefit, of course, but he shows you what's possible and how to get there. Order your copy of this is AMAZING DVD today. Approximately 90 minutes. $39.95 + 6.70 priority shipping or $4.60 media

POWER TO THE PEOPLE! DVD
Pavel strips to the waist and for 47 minutes shows and tells how his "Power to the People" system works. The demonstrations of the concepts explained in the book are both instructive and inspirational. Clarence thought the many possible variations shown of Pavel's 2-exercise, whole-body workout was especially impressive and useful. Clarence says, "Who would have thought so much versatility could be squeezed out of the Deadlift – Pavel calls it the Health Lift – and the Side Press or Floor Press." It's as the video jacket promises: "Power to everyone, from a burly strongman to a fashion model!" 47 minutes, $29.95 plus $6.60 priority or $4.60 media shipping.


POWER Unlimited: Unlimited Strength. Unlimited Will. Unlimited Power (a documentary on powerlifting)
A superbly written and produced documentary on powerlifting, the sport and the people. It chronicles the history of this amazing (but obscure) sport through archival footage and interviews of pioneers such as Ed Coan, Lee Moran, Kirk Karwoski, Rickey Dale Crain, Bev Francis, and others. In addition to telling about the past, it introduces the world of the future through the eyes of novices, international lifters, coaches, and rising stars, such as Pricilla Ribic, Scot Mendelson, Scot Cartwright, and many others. You'll learn about and see the first official 1000 pound Squat--and the first 1000 pound Bench Press!
Carol and I enjoyed every minute of this documentary. It's fascinating to get up-close-and-personal with famous (and not so famous) power lifters, men and women, some we've read about and others new to us. We learned way more than we expected.
This DVD is "must viewing" for anyone interested in, or curious about, the sport of powerlifting.
104 minutes, $29.95 + $6.70 priority shipping or $4.60 media

The Strongest Man in Recorded history: A Documentary on the Life of Paul Anderson—DVD
Many of you have read about the legendary Paul Anderson. Now you can see--and hear--him in action in this wonderful documentary DVD. Even though I saw Paul lift five times (as noted in article 38), the never-before-seen photos and movie footage of Paul preparing for the 1956 Olympics using homemade weights in his home and backyard, newsreel footage of his most famous competitions at home and abroad, and speaking before large audiences gave me a new appreciation of his true greatness. Paul was more than "The Strongest Man of the Century"—truly a wonder of nature. He was a wonderful human being as well. He traveled thousands of miles each year sharing his message: love of God, country, and the free-enterprise system. In 1961, he and his wife Glenda established the Paul Anderson Youth Home, which provides Christian rehabilitation for young men who would otherwise be incarcerated. This is the fantastic story of one of America's greatest athletes--and humanitarians.
95 minutes, Introductory price: $39.95 plus $6.70 priority shipping or $4.60 media A book about his life is also available on this site.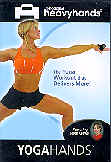 YogaHands™ DVD Featuring Leigh Crews $24.95 + $6.70 priority or $4.60 media shipping

NEW DVD! YogaHands is a unique new form of yoga-based exercise that intensifies your Yoga practice with the integration of Heavyhands hand-weights. Every part of your body works continuously against resistance, generating higher workloads and deeper stretches than traditional yoga. Fire up your strength, stamina, coordination and metabolism simultaneously. YogaHands is easy enough for beginners, yet challenging for athletes.

More stretching and strengthening than Walk Plus, with greater range of motion and less movement; includes Pre-class Guidelines, Workout and Heavyhands History. Features Leigh Crews narrating and performing, with partner Kelley demonstrating advanced postures and movements. Workout segment is approximately 50 minutes, with 44-min workout and 4-min cool down and slow stretch. Another excellent presentation, visually pleasing.