USA only. We do not ship internationally.

For more information, reader feedback and reviews on all three Ripped DVDs, GO
Ripped the DVD
This DVD, the first of three, complements our eight books, demonstrating things people have asked about, things that are difficult to explain adequately in a book. Clarence shares the knowledge gained from his lifetime quest for improvement.
DVD - Running time 89 minutes, $34.95 + $7.95 priority shipping or $4.60 media See below for special on the first and second DVD, $62.95 + $7.95 shipping or $4.60 media.
The Second Ripped Video/DVD
Running time 97 minutes, $34.95 + $7.95 priority shipping or $4.60 media. Please specify Video or DVD.
Special: both the first and second RIPPED Video or DVD, $62.95 + $7.95 priority shipping or $4.60 media.
The Third Ripped Video/DVD
The principles discussed and illustrated here are the ones that have kept Clarence training to improve long after many others have lapsed into maintenance training or given up altogether. Completely different, our third video/DVD is about motivation, the sine qua non of all successful training efforts. No worthwhile fitness goal can be achieved without motivation. Using real life stories, we show you how to stay motivated year after year. Running time 53 minutes, $34.95 + $7.95 priority shipping or $4.60 media. Please specify video or DVD.
SPECIAL: All 3 videos or DVDs for $94.95 + $7.95 priority shipping or $4.60 media OR Two RIPPED Videos or DVD, $62.95 + $7.95 priority shipping or $4.60 media. To place order go to ordering page


Beyond Crunches Companion Video or DVD: BEYOND CRUNCHES: Hard Science. Hard Abs. (Pavel)
As Clarence explains in "The Hardest Sit-up" (article No. 47 on home page), the Janda sit-up, which is the core exercise in Pavel's program for building "bullet-proof abs," is difficult to learn. In this much-needed video, Pavel demonstrates step-by-step how to master the Janda sit-up, with the help of a training partner or using his patented Ab Pavelizer device. See the iconoclastic and dynamic Russian in action doing the Janda sit-up, Saxon side bends, Bruce Lee's favorite the Dragon Flag and the other unique – and very effective – torso builders described in his book. Clarence found this video very helpful. It's a wonderful complement to Bullet-Proof Abs. The book explains the theory and the video shows the actual performance. 37 minutes. $29.95 plus $7.95 priority or $4.60 media

Keys To Weight Training For Men and Women (Video or DVD)
Bill Pearl is the on-screen trainer in this video for beginning weight trainers, guiding you through three progressive free-weight routines and a selection of machine exercises featuring ordinary people as exercise models. There is a 20 page handbook and exercise logs included with this award winning video, which has motivational tips and guidelines for creating your own custom routines. If you're looking for a video to help you get started, this is it. Recommended for beginners. $19.95 + $7.95 shipping priority or $4.60 media.


POWER Unlimited: Unlimited Strength. Unlimited Will. Unlimited Power (a documentary on powerlifting)
A superbly written and produced documentary on powerlifting, the sport and the people. It chronicles the history of this amazing (but obscure) sport through archival footage and interviews of pioneers such as Ed Coan, Lee Moran, Kirk Karwoski, Rickey Dale Crain, Bev Francis, and others. In addition to telling about the past, it introduces the world of the future through the eyes of novices, international lifters, coaches, and rising stars, such as Pricilla Ribic, Scot Mendelson, Scot Cartwright, and many others. You'll learn about and see the first official 1000 pound Squat--and the first 1000 pound Bench Press!
Carol and I enjoyed every minute of this documentary. It's fascinating to get up-close-and-personal with famous (and not so famous) power lifters, men and women, some we've read about and others new to us. We learned way more than we expected.
This DVD is "must viewing" for anyone interested in, or curious about, the sport of powerlifting.
104 minutes, $29.95 + $7.95 priority shipping or $4.60 media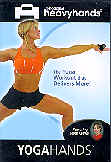 YogaHands™ DVD Featuring Leigh Crews $24.95 + $7.95 priority or $4.60 media shipping

NEW DVD! YogaHands is a unique new form of yoga-based exercise that intensifies your Yoga practice with the integration of Heavyhands hand-weights. Every part of your body works continuously against resistance, generating higher workloads and deeper stretches than traditional yoga. Fire up your strength, stamina, coordination and metabolism simultaneously. YogaHands is easy enough for beginners, yet challenging for athletes.

More stretching and strengthening than Walk Plus, with greater range of motion and less movement; includes Pre-class Guidelines, Workout and Heavyhands History. Features Leigh Crews narrating and performing, with partner Kelley demonstrating advanced postures and movements. Workout segment is approximately 50 minutes, with 44-min workout and 4-min cool down and slow stretch. Another excellent presentation, visually pleasing.