TAKE CHARGE Austin Conference a Huge Success
Some of the top exercise physiologists in the nation gathered on Friday, September 27, in Austin, Texas, to present a conference on cutting-edge issues in the field of exercise science and to pay tribute to Clarence Bass, one of the country's most widely respected experts on exercise, fitness and healthy aging. The conference focused on topics from Clarence's latest and highly reviewed book, Take Charge: Fitness at the Edge of Science, and was held at the H.J. Lutcher Stark Center for Physical Culture and Sports in the North End Zone building of the Darryl K. Royal-Texas Memorial Stadium on the University of Texas campus.
Drs. Jan and Terry Todd, Co-Directors of the Stark Center, were hosts for the conference, which drew about 70 participants during the three panel sessions that were held throughout the day. Participants included a mix of local residents as well as audience members who came from various areas of the country to honor Bass and be a part of this memorable event. One of the highlights of the conference was listening to exercise scientists from distinct but related sub-disciplines speak to and learn from each other both during the formal panel presentations and during the conference breaks and meals. These formal and informal exchanges that took place during the conference will no doubt lead to continuing conversations among these experts and, ultimately, to new advances in the fast-growing field of exercise and aging.
All three panel topics were taken from chapters in Clarence's Take Charge book. The morning panel, entitled "The Aerobic/Strength Alliance," was led by Professor Edward Coyle of the University of Texas at Austin. Dr. Coyle explored two questions: first, whether strength training affects aerobic fitness either positively or negatively; and second, whether aerobic exercise compromises muscle hypertrophy. Dr. Coyle noted that the standard view in exercise physiology textbooks today is that concurrent strength and endurance training compromises muscle adaptations for both strength and endurance. However, Dr. Coyle highlighted recent and accumulating evidence that was cited by Clarence in his book that strength training actually promotes metabolic adaptations in muscle that are "aerobic." Further, Dr. Coyle reported on some studies detailed in Clarence's book that demonstrate the results of "combination training" that uses both strength and aerobic components. These studies show that combination training can yield superior outcomes for both strength and aerobic markers than can be achieved with either strength training or aerobic training alone.
UT Professor Edward Coyle launched the conference by leading the Aerobic/Strength Alliance panel.
Photo © Laszlo Bencze 2013
The two commentators on Dr. Coyle's panel presentation were Dr. Doug McGuff, a medical doctor and co-author of the book, Body by Science; and Dr. Kevin Fontaine, a professor and vice chair in the Department of Health Behavior at the University of Alabama-Birmingham. Dr. McGuff contended in his remarks that the most serious flaw in conventional approaches to the aerobic/strength alliance is the belief that there is an "aerobic system" that is separate and distinct from performing mechanical work with your muscles. Because the various metabolic cycles are so interrelated, Dr. McGuff argued, it is misguided to believe that you can separate any of these metabolic cycles from each other. Therefore, a short-duration, high-intensity strength-training protocol will cause your entire body, including your cardiovascular system, to adapt to high-intensity activities.
Dr. Doug McGuff, shown here with Clarence, found support for his contention
that aerobic metabolism in isolation is a myth.
Photo courtesy of Dr. McGuff
Dr. Fontaine reinforced the theme of Dr. McGuff's comments by using an anecdotal illustration of how the specificity principle helps to define the contours of the aerobic/strength alliance. Dr. Fontaine recounted how he lives in a house that is set in a hilly, rural area, with a very long driveway that includes a steep incline. Dr. Fontaine told of hosting a visitor who was a high-mileage runner who logged perhaps 40 to 50 miles per week, whereas Dr. Fontaine himself is not a runner. Nevertheless, when the visitor walked up Dr. Fontaine's driveway to the house, it was the visitor who was huffing and puffing, and Dr. Fontaine was breathing normally. As Dr. Fontaine explained, he has to walk up and down that driveway three or four times a day, and so his system has adapted itself to the rigors of walking that steep incline. His runner-friend, by contrast, had not adapted to this higher-intensity activity despite his hours of lower-intensity flat-surface running. Dr. Fontaine noted that even his dog proved to be more able to navigate this driveway hill without panting than was his friend's dog!
Dr. Kevin Fontaine's "down home" illustrations of the specificity principle resonated with the audience.
Photo © Laszlo Bencze 2013
The conference lunch break provided the speakers an opportunity to visit with each other while enjoying a buffet at the University of Texas Club in the same building complex as the Stark Center. At the same time, Dr. Jan Todd hosted a guided tour of the Stark Center for about 25 of the conference audience members. Newcomers to the Stark Center, including most of the conference speakers, had earlier enjoyed touring the Stark Center during the pre-program continental breakfast that was offered in the lobby of the Stark Center. Almost to a person, first-time visitors to the Stark Center were awestruck by the size, scope and quality of the Center's collection of photographs and other memorabilia from the history of physical culture. Those who took part in the guided lunchtime tour were able to visit the research archive section of the Center, which houses thousands of documents and correspondence from some of the most important figures in the history of bodybuilding and strength sports, as well as other sports.

UT Professor Jan Todd, co-director of the Stark Center for Physical Culture and Sports,
was the first woman power lifter to squat with 500 pounds.
Photo © Laszlo Bencze 2013
The panel topic that opened the afternoon session of the conference was "The Rise of Intervals," led by Dr. Joseph Signorile, an expert on exercise and aging at the University of Miami and author of the book, Bending the Aging Curve. In his remarks, Dr. Signorile highlighted some of his groundbreaking research on the effectiveness of high-intensity exercise in helping to reverse the typical side effects of aging. Dr. Signorile explained how the traditional approach to exercise for older populations had been very low-intensity regimens that tended to de-emphasize any focus on speed or power. By contrast, his work has demonstrated that in fact the most critical and useful attributes of an exercise program for an aging population are those emphasizing speed and power. One key part of such a program, Dr. Signorile noted, is an approach to aerobics training that focuses on high-intensity intervals rather than on lower-intensity steady-state training. Dr. Signorile closed his PowerPoint presentation with a description of an ideal approach to intervals that his research has developed. That routine involves the concept of "nested intervals," a series of gradually increasing peaks in intensity followed by rest periods, beginning with a warm-up and concluding with a cool-down period.
Miami University Professor Joe Signorile's robust presentation on
The Rise of Intervals was one of the highlights of the conference.
Photo by Carol Bass
The first commentator on "The Rise of Intervals" panel was Dean Brignac, a gym owner and long-time Clarence fan from Baton Rouge, Louisiana. Dean shared with the audience his own success story of how he used Clarence's "barbell aerobics strategy" to lose fat and retain muscle. For years, Dean explained, he had stubbornly clung to a traditional aerobics approach that involved five 30-minute sessions per week on a Stairmaster at moderate intensity. Despite this time commitment on the Stairmaster plus his lifting, Dean could not seem to shed the final 45 pounds of fat that had left him feeling like a "fit but fat guy" with a 37-inch waist. Finally, Dean decided to switch his approach to the "barbell aerobics strategy" that is described in Clarence's books. This meant going from 150 minutes per week on the Stairmaster to a single eight-minute interval workout on the Stairmaster each week, plus consistent slow walking on the other days of the week. He also decreased the volume of sets he used in his strength training. Using photos of himself to illustrate his point, Dean showed how his new, more efficient approach led him to lose those final pounds of fat with no loss in strength and a 29-inch waist to show for it!
Dean Brignac, shown here with IFBB pro Dave Goodin,
was an audience favorite. Check out Dean's amazing waistline.
Photo courtesy of Dr. McGuff
Dan Keating, a law professor at Washington University in St. Louis and a long-time fan and friend of Clarence, was the second commentator on "The Rise of Intervals" panel. Dan described how he had used interval training in his own workout program. Dan said that he liked interval training for its efficiency and its flexibility, given that one could do intervals on just about any type of aerobic equipment or even with no special equipment at all. Dan also described his attempts to keep improving on the treadmill test at the Cooper Clinic. Dan noted how that challenge caused him to wonder whether the secret to the effectiveness of interval training was the intervals themselves or simply just the higher intensity of interval training vs. traditional steady-state training. Dan speculated that perhaps the heart muscle is more like our other muscles than we have traditionally thought. If that is true, he said, then the key for effective training of the heart muscle would be to find an exercise that stresses the heart close to a point of muscular failure. High-intensity interval training certainly does that, he said, but so does a single all-out four-minute run, as a recent study highlighted on Clarence's website demonstrated.
The final panel of the day was entitled, "Forget Heavy, Think Effort," and was led by Dr. Richard Winett, the Heilig Meyers Professor of Psychology at Virginia Tech University and the publisher of the Master Trainer newsletter. Dr. Winett used his presentation to explore what he described as a "paradigm shift" in strength training that was pioneered by Dr. Ralph Carpinelli of Adelphi University in Garden City, New York. The key to this paradigm shift was the "size principle," which says that the larger fast-twitch muscle fibers will not be recruited until the smaller slow-twitch fibers are first fatigued. What is critical for the growth and maintenance of muscle tissue is not the total amount of weight lifted, but instead the total number of muscle fibers recruited on any given set of repetitions. Muscle-fiber recruitment, in turn, depends on challenging a particular muscle to the point of momentary muscular failure, which can be done with heavier weights and fewer repetitions or with lighter weights and higher repetitions. The payoff of this paradigm shift, Dr. Winett explained, is that safe and effective training for muscle growth and maintenance is now available to groups of individuals that previously felt unable or unwilling to participate if strength training necessarily required super-heavy weights. These groups include older adults, as well as people with arthritis or other aches and pains in their joints. Dr. Winett closed his presentation with an example of his own current exercise routine that emphasizes his concept of "sustainable training," training that can be maintained safely and productively for years or even decades of a person's life.
Both lifetime trainers, Bass and Winett agree that long term success
comes from training in a manner that you are willing and able to sustain. Effort based training makes that more likely.
Photo by Carol Bass
Dr. Fontaine, serving as a panel commentator for the second time that day, shared his own practical application of the "Forget Heavy, Think Effort" concept by explaining his recent research using the static contraction method of training. With static contraction, the subject pushes (or pulls) as hard as he can against an immovable object and tries to sustain that effort for set (but brief) periods of time. Dr. Fontaine showed PowerPoint slides and photos demonstrating how he and his wife were able to do static contraction exercises by using various items in and around their house. Dr. Fontaine explained how this has enabled him to build and maintain strength and muscle size without causing joint inflammation, which he had struggled with when doing traditional dynamic movements with weights. Dr. Fontaine said that this static contraction routine is also the only exercise program that his wife has maintained because she finds it simple, efficient and challenging.
Dave Goodin, also known as "The Texas Shredder," was the only IFBB professional bodybuilder who served as a panel speaker or commentator. Dave, who is now 54, explained that he has recently been making use of the "Forget Heavy, Think Effort" concept. Dave said that as he has gotten older, he finds that super-heavy weights on certain exercises give him joint problems. That side effect of aging, however, has not stopped him from continuing to make progress. Dave said that he has been able to adjust some of his routines by going with lighter weights and higher repetition ranges while still achieving momentary muscular failure. One example that Dave described was on the leg press machine, where sometimes he will use a weight of about 450 pounds and do up to 85 repetitions in order to achieve total muscular failure for his thighs!
Dave Goodin may the only IFBB pro with a Masters Degree in exercise science; look at that arm!
Photo by Carol Bass
The highlight of the conference was the catered dinner for speakers and special guests held in the spacious lobby of the Stark Center. The 30 in attendance at the dinner were able to enjoy a delicious and healthy buffet served by Austin caterer, The Love of Food. When dessert and coffee were served, Dr. Waneen Spirduso gave the keynote address for the conference. Dr. Spirduso is the Mauzy Regents Professor Emeritus in the Department of Kinesiology and Health Education at the University of Texas. Her address highlighted her extensive research and scholarship on the positive effects of exercise for enabling older populations to maintain a high quality of life. Her presentation was lively, informative and humorous, incorporating a number of PowerPoint slides and photos, including photos of Clarence at various ages that she used in her widely adopted co-authored textbook Physical Dimensions of Aging. Dr. Spirduso herself proved to be the best evidence of the truth of her message: At age 77, she is the picture of health, active and energetic, and still rowing on the water four times per week!

Dr. Waneen Spirduso, a giant in her field, electrified the banquet room with her keynote address.
Photo © Laszlo Bencze 2013

Dr. Terry Todd was next with a special presentation to make, but he began with some remarks about his long-term friendship with Clarence. Dr. Todd teased Clarence that this conference must be a really big deal, because Clarence will not travel for just anything. Dr. Todd then noted that he had been training and dieting hard for this day with the thought that he would surprise Clarence with a challenge to do a pose-down in front of the gathered crowd at the conference. But unfortunately, Dr. Todd reported tongue-in-cheek, he had struggled with some water-retention issues earlier in the week and thus would not be in peak enough form to challenge Clarence tonight. Then Dr. Todd unveiled a beautiful enlarged photo of Clarence at age 75 that had been taken by world-renowned photographer Laszlo Bencze, who was also in attendance at the dinner with his wife, Candace Collins-Bencze. That photo, which also appears in Clarence's Take Charge book, will be added to the display of Bass photos that already occupies its own area in the Stark Center as a real-life example of the anti-aging effects of exercise.

UT Professor Terry Todd, co-director of the Stark Center, has made a career of chronicling the history of strength training,
something he knows about first hand, as the first official national heavyweight powerlifting champion.
Photo © Laszlo Bencze 2013
Finally, the "man of the hour" himself was given a chance to respond. Clarence's remarks were much like his training: brief, efficient and effective. He thanked the conference organizers and speakers, and gave a special thanks to his partner in business and partner in life, Carol Bass. He noted that happiness comes from "working hard at what you enjoy and do best." He concluded by promising that with the help and support of his friends and followers, he planned to continue along that path.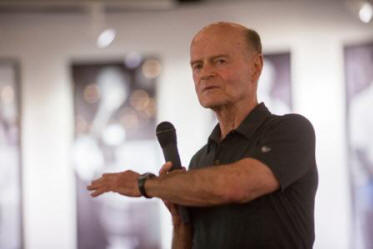 Clarence focused his remarks on thanking the four people primarily responsible
for organizing the conference: Dan Keating, Terry Todd, Jan Todd, and Carol Bass.
Photo © Laszlo Bencze 2013
If Clarence was the man of the hour, Dan Keating was the man of the day,
introducing each panel leader and commentator, and diplomatically making sure they stayed within their allotted time.
Photo © Laszlo Bencze 2013
Shortly after Clarence finished his remarks, those who had enjoyed the day's events slowly gathered to return to their hotel. Based on elevator conversations among the speakers and guests, the verdict on the tremendous success of the day seemed unanimous, and a common sentiment being expressed was, "We need to do this more often!"
Carol & our good friend Gary Millican under the great dome
at the Texas State Capitol building in Austin celebrating a successful conference.
Photo by Clarence Bass
* * *
This enlarged (21" by 31") and mounted photo of Clarence at 75, taken by Laszlo Bencze, was unveiled and presented to Clarence and Carol at the conclusion of the conference dinner. A smaller version will be added to photos of Clarence from 15 to 70 already on display at the Stark Center. The enlarged photo is now proudly displayed in the fitness room at the Bass residence in Albuquerque.
Clarence at 75

Ripped Enterprises, P.O. Box 51236, Albuquerque, New Mexico 87181-1236 or street address: 528 Chama, N.E., Albuquerque, New Mexico 87108, Phone (505) 266-5858, e-mail: cncbass@aol.com , FAX: (505) 266-9123. Office hours: Monday-Friday, 8-5, Mountain time. FAX for international orders: Please check with your local phone book and add the following: 001-505 266-9123
Home | Products Index | Ripped Bks | Lean Adv. Bks | Lean For Life | Recommended Bks | |Consultations | Supplements | Posing Suits | Tapes | To Order | Feedback]
Copyright © 2013-2014 Clarence and Carol Bass. All rights reserved.