Articles:
From The Desk of Clarence Bass
"A lot of them may not care to admit it, but this does not alter the fact that most people want to have a body that will look well and be admired in a bathing suit, athletic costume, or in street clothes. Health and strength is desired too, of course, but a clean-cut muscular figure is the most craved of all physical assets."
Charles MacMahon, Strength magazine, January 1926
MR. AMERICA: The Tragic History of a Bodybuilding Icon
By John D. Fair
Having established himself as the premier scholar of physical culture in the twentieth century with the publication of Muscletown USA: Bob Hoffman and the Manly Culture of York Barbell (Pennsylvania State University press, 1999), historian John D. Fair has locked in his leadership position with the publication of Mr. America: The Tragic History of a Bodybuilding Icon (University of Texas Press, 2015).
Much has been written about the Mr. America Contest, but John Fair's epic treatise is far and away the most comprehensive, scholarly—and readable. Fair takes the Mr. America concept from the Greek ideal of sound body and mind to its final breath at the close of the last century, turning over every stone along the way from the Greek gymnasia to the denigration of American exceptionalism.
Mr. America is much more than the story of a physique contest, it's the story of physical culture in the twentieth century. Boiled down to the bare bone, it's a tug-of-war between form and function, with function prevailing early on in the century, a shaky balance at mid-century, and form taking over as the century comes to a close. As the battle develops it becomes embroiled with bigger than life egos, money, economic conditions, the Miss America Contest, race, homosexuality, professionalism, morality, anabolic steroids, and more. It's an intriguing saga that Professor Fair pieces together as only an extremely organized, persistent, patient, and deeply committed historian—and lifetime weight trainer—could do. Over a 25 year period, Fair interviewed 95 major figures in the physical culture movement, including 25 Mr. Americas. He also consulted countless books and articles; his bibliography covers 10 pages and footnotes another 44 pages.
I attended many of the Mr. America contests in what John Fair calls "The Golden Age," starting in 1953 with my father when Bill Pearl won and on my own up until the National Physique Committee (NPC) took over from the AAU in the late '70s. The high point for my dad and I came in 1955 when Steve Klisanin won. Steve had signed me up for my first lifting contest at the Albuquerque YMCA in 1953. He was already a nationally known bodybuilder and lifter. A buddy and I went downtown to register and, believe me, we were impressed. He was the real deal. My dad and I were thrilled to see Steve crowned Mr. America. But it took John Fair to make me aware of the historical significance of Klisanin's victory.
Fair explains that the AAU was moving toward the all-around standard used in the popular Miss America Contest. "We all agreed that we must either have a Mr. America who will be an ideal American in every way or change the name to something like 'Best Built Man' or some other less inclusive title," Peary Rader wrote in Iron Man magazine. Before the 1955 contest, The National Weightlifting Committee of the AAU decided to "gradually adopt" such criteria as character, education, career aspirations, and athletic ability in a "rather informal way" through an interview process. At Rader's suggestion, they also implemented prejudging.
Whether Klisanin knew it or not, his timing was perfect. The new standard fit him like glove. Upon graduation from Kiska Prep in Pennsylvania, he was named the outstanding all-around athlete over the great Bob Mathias, who later won Olympic Gold in the Decathlon. A former football star and a lifting champion—and a Marine—Steve planned to return to college after leaving the service.
Writing in Iron Man, Mabel Rader admitted that there were other physiques as good as Klisanin's, but "the scales were tipped in Steve's favor" by the new standards of officiating: "No longer does the title 'Mr. America' designate the one quality, 'Superior Physique.' It also includes character, insofar as it can be determined, education, personality, and past and present athletic ability. While this method of judging and selecting a winner is quite new and still rather crude in use, the leaders in our game feel it is a move in the right direction….Those responsible for these changes feel that a man bearing the title of 'Mr. America' should be fully representative of the finest in American manhood in every way." That Klisanin was a Marine and "would much rather be a World Champion lifter" than Mr. America no doubt further endeared him to the judges.
True to his word, Klisanin returned to the University of New Mexico where he earned a Bachelor of Science degree in geology. Dedicating the sports section to Klisanin, the 1957 year book honored him with a full page presentation, including the photo shown here. In addition to this magnificent depiction of balanced athletic musculature, it concluded: "We of the UNM student body are proud to be colleagues of a person of such stature, and as a student, gentleman, and athlete…"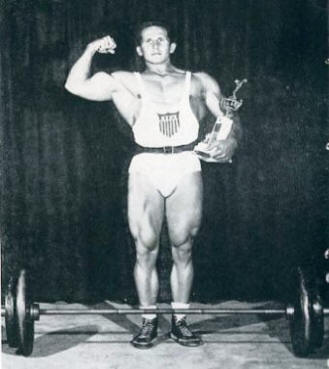 Joe Weider's editors concurred with the new ruling and put Steve on the cover of their flagship Muscle Builder. It was one of the few times the triumvirate of bodybuilding—Hoffman, Rader, and Weider—was in full agreement. The Mr. America ideal was in full flower. For the whole story read John Fair's Mr. America. You won't find a more complete and accurate account. Truth is indeed stranger than fiction. I recommend Fair's Mr. America to anyone who wants the unvarnished truth. It's one helluva story.

Ripped Enterprises, P.O. Box 51236, Albuquerque, New Mexico 87181-1236 or street address: 528 Chama, N.E., Albuquerque, New Mexico 87108, Phone (505) 266-5858, e-mail: cncbass@aol.com , FAX: (505) 266-9123. Office hours: Monday-Friday, 8-5, Mountain time. FAX for international orders: Please check with your local phone book and add the following: 001-505 266-9123
Home | Products Index | Ripped Bks | Lean Adv. Bks | Lean For Life | Recommended Bks | |Consultations | Posing Suits | Tapes | To Order | Feedback]
Copyright © 2015 Clarence and Carol Bass. All rights reserved.