Holly Kicks Off NM's All-Time Best Sports Month
As the world knows, Holly Holm did the impossible. She knocked out Ronda Rousey.
Bigger than big in New Mexico--where Holly was born, trains, and lives (see "Mecca of MMA" below)--her upset win was the beginning of an undreamed of series of achievements in New Mexico sports. The UNM Lobos won a football game that the odds makers said they were sure to lose. To top off the magical month, the women's cross country team won the second national championship in the history of UNM sports. Women rocked New Mexico sports, with an assist from a team of scrappy football players who refused to lose.
The Lobo football team, picked to finish last in their division, were 30.5 point underdogs to Boise State who was picked to win the conference championship. Albuquerque Journal august sports writer Rick Wright was forced to call what happened "only the second biggest upset" ever in our state. Holly's knock-out win came in the early minutes of the football game. Never trailing and ahead 31 to 24, the Lobos stopped the Huskies on our 4-yard line, in the final second of the game.
As if that wasn't enough to sate the The Land of Enchantment's most rabid sports fan, our women's cross-country runners placed 4th, 5th, 13th, 15th, and 24th, to dominate the NCAA championship as few others have done since the event's inception in 1981. They beat second place Colorado by 80 points. Again, it was only the second NCAA team victory in UNM history.
That brings us back around to Holly Holm, who shocked the world with her resounding win over Ronda Rousey. She has been on the front page of our morning newspaper for days on end. Most of the stories are about her non-stop appearances; everyone in the world-wide media wants a piece of the woman who stopped Ronda Rousey. The topic that interested us most, however, was the strategy behind the victory. Ronda Rousey's unmatched record and big mouth created a once in a lifetime opportunity for Holly and her crew at the Jackson Wink Academy.
A LA Times piece carried in our paper quoted Holly: "I just felt like, 'How could I not do this?' I had the best coaching from wrestling to grappling to stand-up. Everything we worked on presented itself in the fight."...The knockout segment was "something we worked on...it was just there. We figured that was coming. She [Rousey] wanted to keep putting that pressure. Lots of blood, sweat and tears, but it sure was worth it."
The clip we watched online showed that Holly resisted the urge to match Rousey's charges; she stood back and pounded her repeatedly in the mouth with her left hand and elbow. As Holly told reporters, she could see that her left "was having an effect." Rousey's face was a bloody mess.
In the second round, Holly waited for the opening and let Rousey have it with a powerful head kick. That was it.
Her primary trainer and coach Mike Winkeljohn, who we met in September, did a wonderful job preparing Holly mentally and physically. As Coach Wink told us MMA is like a game of chess. Moves are anticipated far in advance.
We watched Holly on "The Talk" and read about her appearance on "Live! with Kelly and Michael." She looks wonderful with her waist-length blonde hair and presented herself like the good person that she is, a great fighter and still a refined lady.
Ronda Rousey said before the fight that she didn't think Holly was ready for the limelight being the UFC champion would bring. She was wrong.
The world awaits the rematch.

Clarence Interviewed on Half Size Me™
Heather Robertson, the founder of Half Size Me, gave Clarence the opportunity to speak to her sizeable audience of people struggling with their weight, allowing him to discuss the basics of weight control in a way that rarely happens.
Heather, the mother of three young children, literally half sized herself. After several relapses and maxing out at 313 pounds, she took charge and lost over 170 pounds. She now shares her own struggles as well as how to handle the greatest challenge of any weight loss journey....keeping the weight off.
The interview is number 195 for Heather and she really knows her stuff. She does her homework and radiates enthusiasm with every question. Starting out by admitting to having a bit of a crush on Clarence, she covers everything from getting started to keeping the weight off and everything in between. To hear Clarence's philosophy of lifetime fitness and weight management in just under an hour, click on the link below. Learn about a flexible system that will work for just about everyone.
Seeing Heather now, it's hard to imagine that she once weighed over 300 pounds. She's a master of what she speaks
http://www.halfsizeme.com/195-2/

Clarence Joins in Active Aging Presentation
The day after returning from the Cooper Clinic, Clarence was asked by Dr. R. Ben Johnston to Skype in from Albuquerque to be part of his presentation at the Active Aging Expo 2015 at the Chicago Renaissance North Shore Hotel.
An emergency medicine specialist with the Northwestern Medical Group, Ben Johnston is one of the few who make time to discuss lifestyle issues with the patients he see in the Emergency Room and elsewhere. A frequent visitor to our website, Ben is also a health system clinician at Northwestern University and has for years been sending us studies showing the powerful effect of lifestyle on health and longevity.
He emailed saying he was "touting" our website as "the best on the Net for aggregation" of information on active aging and asked if Clarence would be willing to answer questions at the end of his presentation. Clarence of course jumped at the chance to share the stage with Ben.
Ben highlighted a series of studies in his presentation. (See the link below) While Clarence has devoted whole articles to each of the studies on our website, Ben went straight to the jugular and explained them in a manner the audience could take in quickly. An excellent presenter, he covered them all in a matter of minutes, holding the attention of the audience all the way.
Prompted by Ben, Clarence came in at the end to briefly summarize his background and explain how to gradually put active living to work in your life without getting ahead of yourself and burning out. He stressed adopting programs that you enjoy and are willing and able to keep doing.
Ben tells us that Clarence was well received; the people in the audience took notes and asked for our website address after Clarence signed off.
It was a great opportunity and we thank Ben for making Clarence part of his timely presentation.
In addition to slides on each study, you'll find more about Dr. Johnston on this link.

Our Visit to the MECCA of MMA
The stars were perfectly aligned.
Our Aussie friends Wayne and Tina Gallasch visit with us every year on their way to film the Olympia extravaganza. This year their stop coincided with two epic events in the world of mixed martial arts: 1) The most famous gym in MMA has moved into impressive new quarters in downtown Albuquerque, and 2) Albuquerque's own Holly Holm is training there for her much anticipated match with the seemingly unstoppable Ronda Rousey on November 14--in Australia. You can guess our first stop on their day with us.
The first eye-opener was the transformation of the old DEA building. If you didn't know better, you'd think the 30,000 square foot structure was new. The imposing exterior matches the fighter's paradise inside, which includes two octagons, a spacious open training area, dorm rooms, three levels of apartments, and spaces for a restaurant and store. The fighters that train there can literally eat and sleep MMA. It's an MMA fighter's dream come true.

The entrance of the new Jackson Wink Academy
We were welcomed by General Manager Michael Lyubinov (a perfect fit for a Rocky movie). He showed us to the observation deck directly above the two octagons. We had been told that fighters would be sparing at the time of our visit. About 30 muscular and visibly fit men and a few women were in motion in the training area with coaches guiding the activities--all in bare feet. But no sparing to speak of. Our enthusiasm went up exponentially when we spotted Holly Holm warming up. She soon moved into the octagon right below us and proceeded to spar with a series of partners, one women and three or four men. Her sparing partners rotated as the timer on the wall ticked off 5 minute rounds and much shorter rest periods. The partners seemed to have different roles, some attacking on their feet and others going for a takedown. We didn't fully understand the strategy, but the sparing partners were puffing and panting like steam engines when they stepped out of the cage. While visibly extended, Holly kept going strong from partner to partner, for about 5 rounds. She looked agile and super fit, with her long blond hair piled up on top of her head.

Mike Winkeljohn, the driving force behind the upgrade of the legendary gym, came up as we were leaving and introduced himself as "Coach Wink." Very friendly and outgoing (and barefoot), he described MMA as more akin to a game of chess than the rough and tumble brawling that it may appear to the casual observer. He explained that the members of their gym have to apply and pass rigorous testing. They already have many of the best fighters in the world and aim for more of the same with the transformation of their world famous MMA facility.
Luke Michael, a fighter who came to Albuquerque from Cape Town, South Africa, echoed Coach Wink. "It's world-class," he told a local TV sports reporter. "It's on a completely different level to other gyms. They train world-class fighters."
A personal word about Holly Holm. We see her training in the foothills above our house, sometimes alone and other times with her husband and other training partners. In addition to being beautiful, she runs up--and down--hills that would bring most people to a crawl.
We eagerly await her match up with Ronda Rousey. Whoever wins, it will be fight to remember. The winner will be the best of the best.
For more information on the new Jackson Wink Academy, go to their website: www.Jacksonwink.com
For photos and all you'll ever want to know about Holly Holm, Google her name.

Ric's Corner: Clarence Part 2
Ric Drasin and Clarence got together again on Thursday, August 29; it was up on Ric's Corner that weekend. A new background and better lighting gives Clarence a more natural look. Viewers noticed the difference. Clarence looked 109 last time, according to one viewer. This time a viewer said he looked "great."
The second interview focuses on peaking for competition and other topics in our September 1 Update. Water retention due to excess sodium, dietary fats, good and bad carbohydrates, training with injuries, and fat accumulation with age are discussed.
The interview runs about 32 minutes. We think you'll enjoy it.
Here's the link: https://www.youtube.com/watch?v=7P5yJyo3Gnc
10-1-15

A Taste of Randy Roach's Muscle, Smoke and Mirrors Trilogy
We've long wondered about Randy Roach's examination of the world of muscle since we first heard about it more than a decade ago. What began as a single volume has become a three-volume set of encyclopedic proportions. Volume 1 is 566 pages, Volume 2 is almost 700 pages, and Volume 3 is still taking shape.
He has just released the prologue to Book 1 of Volume III in e-book form, along with a working draft of the cover with a large image of Frank Zane in the background and Arnold and Franco on each side celebrating their Mr. Olympia victories in 1980 and 1981, respectively.
Roach has gone where few, if any, have gone before, turning over every rock along the way. The more research (books, internet, magazines, newspapers, personal observation, and interviews) he does the more he seems driven to report on the ups and downs of what began as a little known sub-culture (fitness, health, longevity, and athleticism) and has become a world wide phenomenon. What began as primarily an expose of bodybuilding nutritional supplements has come to encompass competing corporate empires, international governing bodies, huge gym chains, Arthur Jones and Nautilus, medical and nutritional politics, international rivalries, motion pictures, anabolic steroids, super athletes, the sex appeal of muscle, and more.
The just released prologue (10 pages) provides a rare opportunity to get a taste of the project that has consumed--and elevated--the life of a legally blind man. Read it and decide whether you want to delve deeper into the fruits of Randy Roach's unmatched exploration of Muscle, Smoke and Mirrors.
To read the prologue clicking here!

Clarence on Ric's Corner
If you haven't heard of Ric Drasin, you may be surprised. He's one of the elite group of bodybuilders who trained with Arnold at the original Gold's Gym in Venice in the early '70s. What sets him apart is all that he has done since then. In addition to designing the original Gold's Gym and World Gym T-shirts, he has been a wrestler, actor, author, producer, and the originator of Ric's Corner, an online interview program with over 18 million viewers and growing daily. (Link to his Press Kit below)
Just about everyone from the Golden Age of Bodybuilding has been on Ric's Corner. Clarence is now honored to be included. Feedback so far has been immediate and almost all positive.
"The only thing wrong w/ Clarence Bass is he's more intelligent & realistic than 99%+ of everyone involved in bb'ing," one viewer wrote in response to a series of derogative comments on GETBIG.com.
Let us know what you think.
To view: https://www.youtube.com/watch?v=ZoEAEmJgi_E
Press Kit: https://ricdrasin.wordpress.com/epk/
8-1-15

Clarence Does Encore on Live Life Aggressively
One of their most popular downloads in 2014, Clarence was invited back for a second go around on the LLA weekly podcast. Being on with Mike Mahler and Sincere Hogan is an adventure. They have an informed opinion on just about everything having to do with healthy living; you never know what they're going to ask. More of a dialogue than an interview, their podcast is lots of laughs and even more thoughtful commentary.
Log on and see if Clarence holds his own. A provocative (what else would you expect from Live Life Aggressively) written introduction with many of the topics gives you a preview before the Podcast begins.
To tune in go to Mike Mahler's Aggressive Strength website: http://mikemahler.com/podcast Episode 139
Do it now!
To learn more about Sincere Hogan: http://newwarriortraining.com/
8-1-15

Concept 2 Introduces New Sprint Challenges!
Clarence has exciting new challenges to spur his motivation.
Concept 2 has added two sprint distances to their World Rankings on both the rower and the Ski Erg. Clarence can now compete with men in his age category (70-79) from all over the world in the 100 meter and 1 minute sprints.
He has stayed motivated over the years by continually looking for ways to improve. When he topped out on one area, he looked for another where he could realistically expect to improve. For example, when he couldn't see himself making further progress as an Olympic weightlifter, he moved on to bodybuilding where he saw many opportunities for improvement.
Over several decades Clarence has competed in rowing at 2500, 2000, 1000, and 500 meters--and more recently at 1000 and 500 meters on the Ski Erg. Both Concept 2 vehicles have been major sources of motivation.
While his recent training has gravitated to the shorter distances, he has never tried going all out at 100m or 1 minute. (Maintaining back position on the rower at the start is crucial to avoid injury.)
The new sprints are a real "turn on." Within days he posted times in both events on the rower, and plans to do the same on the Ski Erg in the next few weeks.
He's in the middle of the pack in the 1 minute sprint and further down at 100 meters--with several competitors in his headlights at both distances, including one from Albuquerque.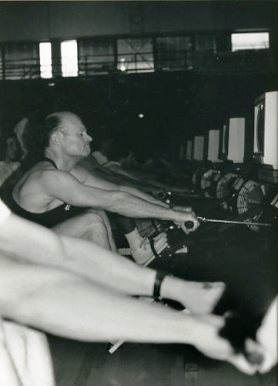 Competition makes us better in the never ending battle with ourselves.
For more on C2 competition and motivation: http://www.cbass.com/Rowing.htm and http://www.cbass.com/SkiErg.htm
8-1-15

Clarence Featured in Zane's Building the Body
The big news in Frank Zane's Summer 2015 issue was that the editors of Muscle & Fitness magazine named him THE BEST PHYSIQUE EVER. "It's almost like winning Mr. Olympia again," Frank wrote. Frank was never the biggest, but his was the body everyone wanted. Congrats, Frank. Few would argue; certainly not us.
"Best article" (our view) went to the two page spread on Clarence with two outstanding photos along with an outline of his brief and balanced high-intensity training and whole food diet. Frank writes that he first laid eyes on Clarence at a seminar after winning Mr. Olympia for the first time in 1977. "It was a group of about 50 people and I was impressed with how interested he was in what I had to say," Frank wrote. We remember; the poster for the seminar hangs in our gym. That Frank remembers is a delightful surprise.
Franks goes on to call Clarence "an incredible lifetime bodybuilder."
Thanks, Frank, for the opportunity. Much appreciated.
For more about Frank and the latest issue of his quarterly magazine: www.frankzane.com
7-1-15

Bill Kociaba Interviews Clarence and Brooks Kubik Together
When he interviewed Clarence in August (2014) we told you that Bill Kociaba is a very special man. He has a marvelous speaking voice, asks clear sharp knowledgeable questions, and then gets out of the way. (He also happens to be totally blind.) Clearly, we are not alone in our opinion, because Bill's Real World Fitness Interviews have been picked up by a group with a global reach called SeroTalk and are now broadcast weekly by podcast. (You'll find more about Kociaba's extensive background in physical culture nearby on our "News 8" page)
Bill's latest interview is with Brooks Kubik (shown below) and Clarence, both lawyers and fitness aficionados with many articles, books, and videos to their credit. They are also champions in their chosen sports, Brooks in wrestling and powerlifter and Clarence in Olympic lifting and bodybuilding. Another commonality is that both made their bones as strength fitness athletes and writers while practicing law full time. As a result the advice they offer is compatible with normal living.
To listen to the two-part, three person exchange go to http://serotalk.com/2015/06/
You'll find detailed outlines of each part.
7-1-15

Website Revision
New Home Page, Top Articles Grouped, and Much More

Welcome to the new CBASS.COM!
The basic format is the same, but presentation and access are vastly improved. We've altered our look to make our content more appealing and transparent. You may wonder what happened to all the offerings on the Index Page, but you'll soon find that the paths to feature articles, Success Stories, FAQs, News Items, Products, and all the rest are faster and more streamlined. The new arrangement makes everything easier to find and more helpful.
Top article grouping leads the transformation.
It was a big job, but it had to be done. Reviewing and evaluating all 409 (and counting) articles "From The Desk Of Clarence Bass" was challenging. Our content is second to none, but the volume has gotten out of hand. To make it easier for people to get into the topics that interest them we decided to group the top 10 articles in each of the 10 categories. The top articles were selected based on their comprehensiveness, their resonance, and their enduring quality. Picking only 10 in each category was like picking our favorite children; all articles in each category present important dimensions of the topic. But pick them we did.
The revision leaves the categories only on the index (home) page, with the top 10 articles in each category segregated from the other articles on a separate page.
The core 100 articles fit their categories like a glove. Two examples.
Two of the top articles in the "The Age Factor" category are blockbusters; they've gained credibility with the passage of time. Leading the list is "The Metabolism Myth," the second article to be posted on our site, in 1997.
It explains that a slowing metabolism is not inevitable. It's true that metabolism normally slows with age, allowing fat to accumulate, but it doesn't have to be that way. There is no biological reason to get fatter as you grow older. The remedy is to continually challenge your muscle function, the driver of metabolism, with exercise.
Fifteen years later, we had rock-solid scientific validation when Joseph F. Signorile, PhD, a highly regarded professor of exercise physiology at the University of Miami, wrote in his book Bending the Aging Curve that a 75-year-old lifelong trainer has the neuromuscular function of an untrained person at 20. Clarence's training pictorial from age 15 to 77 illustrates the same phenomenon. Whether metabolism slows and fat accumulates with age is largely a matter of choice--an encouraging message for fitness-minded individuals everywhere.
The second article is "The Necessity of Intensity," number 58 posted to our site at the turn of the century. Again challenging conventional thinking, Clarence maintained that intense exercise becomes more important with age. He questioned an article in the September 2000 issue of Scientific American suggesting that nothing can be done about the loss of fast-twitch muscle fibers with age. Weight training can prevent some loss of muscle mass by thickening individual fibers, the highly regarded publication told its readers, "but it appears to have no major effect on the loss of [fast-twitch] fibers."
Supported by the example of older sprinters, Clarence wrote that loss of fast fibers is due more to lack of use than aging, that intense exercise can keep the fast fibers alive and functioning. That position has been gaining ground ever since. You'll find study after study on our site showing the anti-aging power of intense exercise (strength and aerobic).
That only scratches the surface of what you'll find in our top 100 articles. We hope it leaves you hungry for more.
The process of putting the new layout together has been a labor of love--and oh so satisfying. We hope you enjoy and benefit from the revision. Please take a few minutes to check out the change. You can access every part of our website from the red and black navigation box on this and every page.
6-1-15

"How I Train," for Zane
For those not familiar with bodybuilding history, Frank Zane is the only Mr. Olympia--he won three times: 1977, 1978 & 1979--to have a Master's Degree. He has an under-graduate degree in psychology and a Master's in experimental psychology. He also taught mathematics and chemistry in Florida and California. (That why they call him The Chemist.) Finally, he was perhaps the most symmetrically bodybuilder of all time, with every part of his body fully and proportionally developed. Frank stands alone in many ways.
Carol called to renew our subscription to his quarterly magazine "Building the Body" and was lucky enough to get Frank on the phone. In the course of conversation, Frank asked if Clarence would write a short piece about his current training and diet for their summer issue. He also asked for photos, saying "if they're good enough" he might use one on the inside cover. The winter issue of Building the Body featured Dave Draper on the front and back cover.
Pressed for time, Clarence updated an earlier Q & A that covered his diet and training philosophy, but Frank said he couldn't use that format. He asked Clarence to rewrite it, which he did. We sent Frank 800 words on how Clarence trains and eats, along with photos at 45, 60, 70, and 77.
We included this photo, taken by John Balik, because Frank has an eye for symmetry.
We look forward to the summer issue of Building the Body to see what, if anything, Frank does with our article and photos.
Frank had rotator cuff surgery about six months ago and is now getting back into serious training. Visit www.frankzane.com to learn more about that and Building the Body.
5-1-15

Tufts Scientist to Study Clarence's Blood Chemistry Over 37 Years
Clarence has been presented with another wonderful opportunity. Logical but completely unexpected.
Michael Lustgarten, PhD, a 41-year-old post-doctoral scholar at Tufts University in Boston, studies the associations between blood biomarkers, body composition, and physical function in both young and older adults. He is also interested in optimizing his own body composition and fitness. Those interests have led him to follow Clarence through his books and website for 15+ years.
He recently published six impressive papers on his area of interest: http://www.ncbi.nlm.nih.gov/pubmed/?term=lustgarten+ms
Understandably, he queried Clarence: "What are the chances that you have blood tests results for yourself over many years that I can compare with your year to year fitness level?"
Clarence responded that he did and Michael presented an intriguing hypothesis for exploration:
Your data is unique. While I have published data in young, healthy subjects and, in older adults (who were limited in terms of physical function) you represent a model of ideal aging, as your body composition and function have basically stayed the same for 30+years. My hypothesis is that your blood chemistry markers would be essentially unchanged during this time, in association with your maintained body composition and function….
One thing led to another and we have compiled a booklet with 13 sets of body composition, fitness, and blood biomarkers for analysis by Dr. Lustgarten. Spanning 37 years, the data comes from Lovelace Medical Center in Albuquerque and the Cooper Clinic in Dallas, combined with Clarence's photos and personal body composition records.
We are eager to learn what Michael finds and hope that it will be worthy of publication as a case study.
This will, of course, take time. We'll keep you apprised of developments.
This is exciting! A scientist, Dr. Lustgarten will call it as he sees it, but we expect overall encouraging results for those interested in staying lean, fit, and healthy for a very long time.
4-1-15

Power-Quest Features Clarence in 2014 Christmas-Special
Europe's biggest and most ambitious fitness podcast, founded and produced by competition climber and author Jurgen Reis and strength expert and sports reporter Dominik Feischl, choose Clarence for their Christmas-special interview. Launched in November 2007, Power-Quest.cc has averaged a new episode every five days; Clarence is interview number 487. Reis and Feischl spent 32 minutes introducing him in German. We could only understand a word here and there, but the excitement was palpable. They really revved up their audience, which averages 50,000 every episode. The focus was on new developments in Clarence's research and training: Cutting back to two high-intensity workouts a week, switching from skimmed to organic whole milk, record high HDL "good" cholesterol, and turning 77. It made for 60 minutes of cutting-edge discussion. The eighth time around, Jurgen told Clarence, "This was THE BEST interview you ever gave."
Log on free and judge for yourself: http://download.power-quest.cc/PQ-podcast487.mp3 (The English part starts at minute 32.)
For a spectacular Facebook montage of Jurgen on the climbing wall: https://www.facebook.com/media/set/?set=a.881105805273339.1073741830.191105767606683&type=3&uploaded=24

Take Charge Conference Reported in Super Issue of Iron Game History
In introducing the August 2014 double issue of IGH, Co-Editor Dr. Terry Todd included the Take Charge Conference in the many activities facilitated by the Stark Center in the past year. We are honored to be included in the 84-page issue, which may be the best ever produced by the academic world's premier journal of physical culture.
Among the many activities of the Stark Center is the teaching of students, which now includes overseeing the granting of a doctoral degree. Co-Editor Dr. Jan Todd spearheaded the acceptance of the degree program by the UT Department of Kinesiology and Health Education. Over the past year, three of their graduate students completed their dissertations and earned a PhD in Physical Culture and Sport. A proud achievement indeed for both the Stark Center and the students. Birth of the professional strength coach, understanding the mythic nature of Muscle Beach, and changing approaches to obesity and fitness of Americans were unlikely dissertation topics--until now.
The Stark Center also took a "full team" to the North American Society for Sports History, where both graduate students and faculty members presented papers on subjects ranging from weightlifter/world champion wrestler George Hackenschmidt and British physical culture to ACL injuries to women athletes and international Olympic policy. What's more, IGH Associate Editor Kim Beckwith was named "Collegiate Coach of the Year" by the USAPL after coaching the UT Men's Powerlifting Team to victory at the USAPL Collegiate National Championships. There's more, but you get the idea. The Stark Center has been very busy and very productive.
Iron Game History is also published under the auspices of The Stark Center--and the new issue is a masterpiece. A main theme is the subject of Performance Enhancing Drugs (PEDs). And there's more, including a 21-page piece on Steve Reeves and the promotion of Hercules; part two of a three-part analytical narrative by Professor John Fair on the USA versus the world in Olympic weightlifting from 1970-1992 (the major role of our friend Carl Miller as national coaching coordinator is covered in depth, along with Clarence's role as a member of the national weightlifting committee); and finally an article about Dr. Thomas Delorme and the medical acceptance of progressive resistance exercise. The mythical hero Milo of Croton, who became the strongest man in the world by lifting and carrying a calf every day until it grew into a full-grown bull, demonstrated the principle--and Delorme proved how it could be used in physical therapy.
Performance Enhancing Drugs (PEDs) is not a new topic, but the articles are both current and historic. The triggering event and the main article is about Mike Jenkins, winner of the 2012 Arnold Strongman Classic, who suffered a heart attack and died at 31. Companion articles are about doped athletes as role models, the rise of natural bodybuilding competition, and "A Snatch For The Ages" about the 334-pound world record snatch by a Russian female lifter weighing 212 pounds. For perspective, consider that 340-pound Paul Anderson was considered a "wonder of nature" when he snatched 336 in 1956 and that only two American heavyweight men have snatched 400 or more: Bruce Wilhelm 400 and Mario Martinez 415.
Finally, here's what Dr. Terry Todd had to say about our conference:
Other manifestations of our activities this past year include two conferences hosted by the Stark Center. The first was the brainchild of Dan Keating, Professor and Dean at the Washington University School of Law in St. Louis, and was designed to honor Clarence Bass, the lifelong lifter who, at 76, by exercising, studying, and eating very carefully since his early teens, has developed and essentially maintained a level of overall fitness well beyond most active athletes in their thirties. Held at the Stark Center, the conference celebrated Bass' most recent book, entitled Take Charge: Fitness at the Edge of Science, and featured presentations by a number of fitness experts and admirers of Bass. Among those who spoke was U.T. Exercise Physiologist Ed Coyle, who also chaired a panel on "The Aerobics/Strength Alliance." The second panel was led by Dr. Joe Signorile, a professor of exercise science at the University of Miami and was called, "The Rise of Intervals." There was also a third panel, led by [Dr. Richard Winett, a professor of psychology at Virginia Tech] on the subject, "Forget Heavy, Think Effort." The conference ended with a fine dinner at the Center and featured keynote speaker, Dr. Waneen Spirduso, retired Professor of Kinesiology and Health Education and an international expert on physical activity and aging.
To subscribe to IGH and get your copy of the August 2014 double issue go to www.starkcenter.org and select Iron Game History.

Peak Testosterone Interviews Clarence
Lee Myer interviewed Clarence for his popular men's website, PeakTestosterone.com. You'll find the interview under "Most Recent Pages" on the homepage or you can hit "B" on the subject index.
Here's how Lee introduced the interview on his Forum:

It was a thrill for me to get to interview Clarence Bass. The guy wrote some pivotal bodybuilding articles and is known for building muscle steadily while maintaining a low body mass... Now what is really remarkable is that he has done all of that with testosterone levels right around 500, something he discusses in the interview below. He has a lot of interesting comments. I always say that I'm chasing Dr. Life, but now I realize that I'm really chasing Clarence Bass! Seriously, the guy is a great example of maintaining health, fitness and vitality as the decades roll on and he has some great tips, especially for you guys weight lifting 45+ years old or more: [Dr. Jeff Life is the doctor with the 74-year-old head and the ripped body of a 30-year-old plastered all over the ads for the Cenegenics Medical Institute, a Las Vegas-based clinic that specializes in "age management." Jeff is a good friend. He visited with us in Albuquerque before joining Cenegenics and transforming himself with a combination of lifestyle change and hormone replacement therapy.]

http://www.peaktestosterone.com/Clarence_Bass_Senior_Bodybuilding.aspx