Tommy Kono: Weightlifter of the Century
"This may be my last letter," Tommy Kono wrote to friends far and near in January. "My health has gone from bad to worse. My liver is not able to carry the load [and] the ammonia level is going to my brain."
He died Sunday, April 24, 2016. He was 85.
Dr. Pete George, a contemporary whose records Kono eclipsed, wrote recently in Denis Reno's Weightlifter's Newsletter that Tommy Kono was "the greatest weightlifter of all time." George continued: "He broke every record and champion that stood in his path... If the records at the time were 150% higher, Tommy's results would have been the same."
The governing body of international weightlifting was of the same mind.
Kono was named the best weightlifter of 100 years (1905-2005) at the centennial meeting of the International Weightlifting Federation in Istanbul on March 3, 2005.
Kono was the best of the best on and off the weightlifting platform. In the course of winning six world championships and two Olympic Gold Medals, he became the only weightlifter in history to set world records in four different weight classes. He also won the Mr. World physique title in 1954 and the Mr. Universe title in 1955, 1957, and 1961. He went on to coach the Mexican, West German and U.S. Olympic teams, in 1968, 1972 and 1976, respectively.
He traveled the world as an official and ambassador for Olympic weightlifting.
He was invited to address the IWF Congress on May 21, 2013, in Moscow to underline the importance of our sport's activities and involvement in the Olympic Movement.
Reaching beyond weightlifting, Kono helped start the Honolulu Marathon while working in the Honolulu Parks and Recreation Department. (He retired in 1997.)
He wrote two exceptional books on the subject he knew best: Weightlifting Olympic Style (2001), and Championship Weightlifting: Beyond Muscle Power, The mental side of lifting (2010).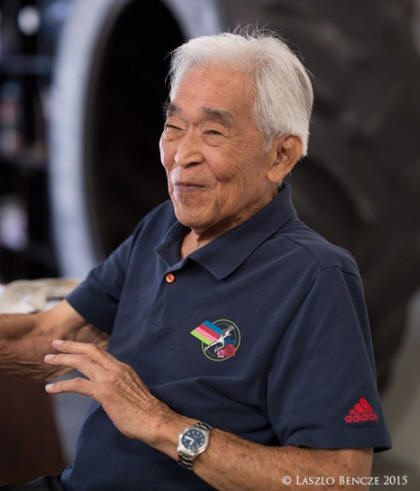 This photo was taken in 2015 during a seminar Tommy gave at the annual
Tommy Kono Weightlifting Championship in Sacramento, CA,
where he lived until moving to Hawaii in the mid-1950s.
© Laszlo Bencze 2015
* * *
I saw Tommy Kono for the first time at the 1953 National Championship in Cleveland, Ohio; I was a sophomore in high school. As my father and I walked into the auditorium the first thing we saw was Bob Hoffman at the microphone--and Tommy Kono standing on the side of the stage in a colorful Hawaiian shirt. He was already an Olympic and two time world champion, so I recognized him immediately. The only other thing I remember is that Bill Pearl won the Mr. America contest.
A half century later we became email friends. I have an inch-thick stack of correspondence. He was a kind and attentive friend. He loved precision in everything from engineering to acrobatics--and of course Olympic weightlifting.
It was my honor and pleasure to write commentaries that he used to promote his books: http://www.cbass.com/Kono.htm and http://www.cbass.com/Kono2.htm
We'll never see his like again. His was a life splendidly lived from beginning to end.
Our heartfelt condolences to Tommy's wife, Florence, and their three children and grandchildren.
(John Davis, another American weightlifter, also won six world championships and two Olympic Gold Medals. He was undefeated in international competition from 1938 to 1953. "More than anyone else, [he] set the standard for me to follow," Tommy Kono wrote. For details about his life: http://www.cbass.com/JohnDavis.htm )

Ripped Enterprises, P.O. Box 51236, Albuquerque, New Mexico 87181-1236
or street address: 528 Chama, N.E., Albuquerque, New Mexico 87108,
Phone AND FAX (505) 266-5858 , e-mail: cncbass@aol.com ,
Office hours: Monday-Friday, 8-5, Mountain time
Home | Products Index | Ripped Bks | Lean Adv. Bks | Lean For Life | Recommended Bks | |Consultations | Posing Suits | Tapes | To Order | Feedback]
Copyright © 2016 Clarence and Carol Bass. All rights reserved.