"Clarence is a pleasant, relaxed, lean, muscular white male who shows very good insight into his health and fitness." W. Lynn McFarlin, MD (April 25, 2018)
Thirty-Year Report from the Cooper Clinic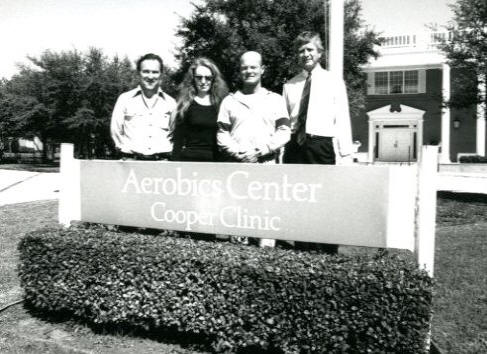 Carol and I are flanked by Dave Prokop and Dr. Arnie Jensen during our first visit to the Cooper Clinic in 1988.
Arnie made a trip to Albuquerque to persuade me to come for a head-to-toe exam.
Dave wrote a feature article about it in Muscle & Fitness.
Photo by Justin Joseph
This is perhaps the most guarded or mixed report of my many exams over the last 30 years. While earlier reports have been almost uniformly positive, this one has a few chinks.
Good & Bad Without Statin
"His overall sense of health is improved since he stopped statin therapy which was causing body aches, chills and rigors…," Dr. McFarlin wrote.
That's good, right?
The fly in the ointment is that my lipid profile has gone from ideal—70s across the board for good and bad cholesterol and triglycerides—to rather good.
"Today's lab studies on daily omega-3 fish oils shows a recurrent hyperlipidemia with LDL far above goal level at 154 but your HDL is quite good at 77 and as a result, your lipid ratio remains quite healthy at 3.2," McFarlin wrote. (Chol/HDL ratio under 4.5 is considered good.)
If my earlier numbers hadn't been so damn good, this would be considered okay. "Acceptable," at least.
CT Scans
"Today's heart only [without IV contrast] CT scan shows stability of high burden coronary plaque and I feel quite comfortable deferring your follow-up CT angiogram until 2021," Dr. McFarlin wrote. (Coronary calcium showing up on this scan is hardened and in my case no longer growing.)
As I've written here before, CT angiogram tests with IV contrast have shown my coronary arteries to be "very large." While my coronary calcium level is high, there is practically no narrowing of my coronary arteries. Dr. Ho who oversees the tests—and discussed the results with me at length—said I've got practically nothing to worry about.
The problem is that my margin for error is up in the air without the statin. I have considerable wiggle room never the less. If the situation becomes dire there are options, such as the new injectable—and unproven—statin that costs in excess of $14k a year and isn't covered by Medicare (unless you have a heart attack).
Lifestyle Factors
What I still have going for me is healthy living. My relaxed blood pressure is excellent (105/65) and my fasting blood sugar and A1C show "no evidence of diabetic tendency." Unlike many people my age, I don't have diabetes or hypertension—and I'm not overweight.
My Omega-3 level is very good at 9.7%. (Anything over 8% is considered good.) The sardines I have with breakfast and fish oil cap with lunch and dinner are doing the job.
Stress Test Results
My exercise stress test—using my own 10 minute interval routine on the Airdyne—was normal "showing no evidence of ischemic heart disease." While my peak heart rate was a little disappointing at 155, the all-out 30s intervals were perhaps the best I've ever done. I was very pleased with my effort. Doing my own routine freed me up to go for broke. (No exhaustion hazard hanging over my head)
The bummer was that my heart rate peaked at 214 during the recovery period. The saving grace is that the peak cleared in less than two minutes—with "no symptoms of lightheadedness or chest pain."
I didn't feel a thing, and would not have known my heart was spiking had I not seen it on the monitor. I looked away, because it made me uneasy. I didn't know it cleared so fast until I read it in Dr. McFarlin's report.
My heart rate spikes are few and far between—and I don't know they are happening until I see it on my Fitbit. The peaks have never showed up on the Airdyne at home.
Testosterone Up--Again
My testosterone is going "up" rather than down—at 788. The previous test, at 666, was the highest up to that time.
Dropping the statin could be a factor.
The only other thing that's new is going for rankings every couple of weeks on the Concept 2 rower—at 100 meters and one minute. After turning 80, I've been improving on the sprints almost every time out. I really enjoy the challenge. See http://www.cbass.com/age80ranking.html
High intensity exercise improves or stabilizes testosterone. See "Muscle Talk: http://www.cbass.com/MuscleTalk.htm
Dr. McFarlin calls my serum testosterone level "quite good."
* * *
Pulling all of this together makes me feel pretty sanguine about the road ahead. Informed by Dr. McFarlin, Cooper Clinic testing, and my own research and experience, healthy living is still paying big dividends.
My bet is that it will do the same for you. Nothing beats self-help.
June 1, 2018
Comment on this article: FEEDBACK

Ripped Enterprises, P.O. Box 51236, Albuquerque, New Mexico 87181-1236
or street address: 528 Chama, N.E., Albuquerque, New Mexico 87108,
Phone AND FAX (505) 266-5858 , e-mail: cncbass@aol.com ,
Office hours: Monday-Friday, 8-5, Mountain time
Home | Products Index | Ripped Bks | Lean Adv. Bks | Lean For Life | Recommended Bks | |Consultations | Posing Suits | Tapes | To Order | Feedback]
Copyright © 2018 Clarence and Carol Bass. All rights reserved.