Remembering Steve Klisanin
Our San Antonio friend Richard Sanders, a former New York kid, reminisced about his iron game mentors back in the '50s, causing me to reply that Steve Klisanin would be at the top of my list.
That exchange prompted me to retrieve Steve's file from our "Older" cabinet. Packed with correspondence and other items I hadn't looked through in years, it brought back many wonderful memories and a few worrisome.
I'll set the stage with an unforgettable exchange with Steve and my thoughts on what historian John Fair wrote about him in his book on the Mr. America contest (University of Texas Press, 2015).
Here's what I wrote in The Lean Advantage 3, published in 1994:
It was Sunday night. "Can I help you in some way?" my wife Carol asked the caller. I knew that meant someone was asking for me. A moment of silence. Then, with a surprised look, she turned to me and said, "It's Steve Klisanin!"
As Steve and I talked, briefly on the phone and at length the next day, the memories came flooding back. Klisanin won the Jr. Mr. America, Mr. America and Mr. Universe titles in 1954, 1955 and 1956, respectively. He was the first "big-name" bodybuilder I met face to face. It was 1953, in the weight room of the Albuquerque YMCA; I was 15. Also an accomplished Olympic lifter – he rated among the top 10 in the world in the 198 pound class – Steve signed me up for my first weightlifting contest. I'll never forget it. Effortlessly, in slow motion and talking normally he demonstrated the proper execution of the Military Press for me and my training partner – with more weight on the bar than we could lift. To say we were impressed would be a gross understatement.
It was wonderful to have the opportunity to tell Steve the impact he had on me in my formative years. In the course of our morning-long reunion – it has been almost 40 years – I showed Steve a passage in Ripped 2 recounting a remark he made to me, a biting remark. Understandably, he didn't remember the exchange, but I did because it was something I needed to hear. Tellingly, Steve's blunt comment made a point that two-time Mr. Olympia Dorian Yates, in his 1993 book Blood & Guts, credits as the secret of his success.
Here's what I wrote in a section of Ripped 2 explaining what keeps me training: "About that time I went to an Olympic Lift contest in El Paso, Texas with the 1955 Mr. America, Steve Klisanin. At that contest I became one of the youngest lifters in the country to Clean & Jerk 300 pounds. That set my hopes soaring. I must have been popping off about the great things I was going to do, because I remember that Klisanin brought me abruptly back to earth. He said, "You're no Norbert Schemansky." (Schemansky was then U.S. and World Champion.) Taken aback, I asked Klisanin how he knew. I don't remember his answer but, as it turned out, he was right.
I think Steve was trying to tell me that I should focus on state and regional championships and be successful there before I started thinking about higher level competition. That's what I eventually did. I became New Mexico champion, Southwest champion, Rocky Mountain Champion and Junior National Champion. As a young lifter, if I'd refused to take the cue from Klisanin, and instead set my cap on becoming another Norbert Schemansky or else, I probably would have become discouraged and given up long ago.
* * *
The following is my thoughts on Steve's victory at the Mr. America contest, as related in Professor Fair's eye opening book:
I attended many of the Mr. America contests in what John Fair calls "The Golden Age," starting in 1953 with my father when Bill Pearl won and on my own up until the National Physique Committee (NPC) took over from the AAU in the late '70s. The high point for my dad and I came in 1955 when Steve Klisanin won. Steve had signed me up for my first lifting contest at the Albuquerque YMCA in 1953. He was already a nationally known bodybuilder and lifter. A buddy and I went downtown to register and, believe me, we were impressed. He was the real deal. My dad and I were thrilled to see Steve crowned Mr. America. But it took John Fair to make me aware of the historical significance of Klisanin's victory.
Fair explains that the AAU was moving toward the all-around standard used in the popular Miss America Contest. "We all agreed that we must either have a Mr. America who will be an ideal American in every way or change the name to something like 'Best Built Man' or some other less inclusive title," Peary Rader wrote in Iron Man magazine. Before the 1955 contest, The National Weightlifting Committee of the AAU decided to "gradually adopt" such criteria as character, education, career aspirations, and athletic ability in a "rather informal way" through an interview process. At Rader's suggestion, they also implemented prejudging.
Whether Klisanin knew it or not, his timing was perfect. The new standard fit him like a glove. Upon graduation from Kiska Prep in Pennsylvania, he was named the outstanding all-around athlete over the great Bob Mathias, who later won Olympic Gold in the Decathlon. A former football star and a lifting champion—and a Marine—Steve planned to return to college after leaving the service.
Writing in Iron Man, Mabel Rader admitted that there were other physiques as good as Klisanin's, but "the scales were tipped in Steve's favor" by the new standards of officiating: "No longer does the title 'Mr. America' designate the one quality, 'Superior Physique.' It also includes character, insofar as it can be determined, education, personality, and past and present athletic ability. While this method of judging and selecting a winner is quite new and still rather crude in use, the leaders in our game feel it is a move in the right direction…Those responsible for these changes feel that a man bearing the title of 'Mr. America' should be fully representative of the finest in American manhood in every way." That Klisanin was a Marine and "would much rather be a World Champion lifter" than Mr. America no doubt further endeared him to the judges.
Joe Weider's editors concurred with the new ruling and put Steve on the cover of their flagship Muscle Builder. It was one of the few times the triumvirate of bodybuilding—Hoffman, Rader, and Weider—was in full agreement. The Mr. America ideal was in full flower.
(For the whole story read John Fair's Mr. America. You won't find a more complete and accurate account. Truth is indeed stranger than fiction. I recommend Fair's Mr. America to anyone who wants the unvarnished truth. It's one helluva story.)
* * *
Next up was the 1956 Mr. Universe in Florida. Steve was in top form and easily took 1st place in the contest, with Ray Schaefer coming in second and Gene Bohaty and Harry Johnson tying for third place. This victory was headline news because of a backstage clash between Steve and Schaefer over the quality of physique muscle--reinforcing Mabel Rader's assertion that Steve valued Olympic lifting prowess over physique.
Schaefer went on to win the NABBA Amateur Mr. Universe in London. Steve's clear victory over Schaefer a few days earlier, put him at the top of the amateur bodybuilding world.
* * *
True to his word, Klisanin returned to the University of New Mexico where he earned a Bachelor of Science degree in geology. Dedicating the sports section to Klisanin, the 1957 yearbook honored him with a full page presentation, including the photo shown here.
In addition to this magnificent depiction of balanced athletic musculature, it concluded: "We of the UNM student body are proud to be colleagues of a person of such stature, and as a student, gentleman, and athlete…"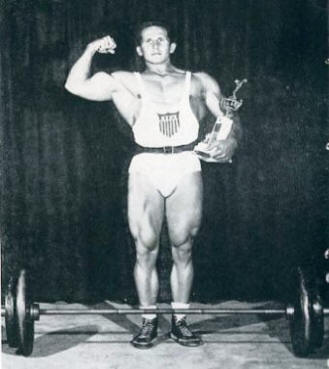 <![if !vml]>
<![endif]>
That brings me to what I found in our packed file on Steve, spanning over a decade. We became surprisingly close friends.
Twice married, he traveled cross country from time to time to visit his children and grandchildren in Louisiana; it was on these trips that he would often stop off to visit with us.
He was supportive of me all the way—but his final years were a trial.
He was proud of what I had achieved and told me so over and over, with the high point being a gift of the Muscle Builder cover of him holding the Mr. America trophy--with this once unimaginable message at the bottom:
Clarence/ The "INSPIRATION" has reversed! Thanks, Steve Klisanin
Framed on the wall of our study, this exchange never fails to lift my spirits.
* * *
Like many extremely successful athletes, Steve's motivation to stay in top shape faded when he stopped competing.
Never really overweight, he wrote several times that he wanted to drop 20 or so pounds to get his weight down to 175 or 185. He stopped and started numerous times, but never made it. The drive just wasn't there.
* * *
In 2004, he wrote in a Christmas card: Rough Year – Starting to age rapidly.
A short time later he wrote:
Personally – The old saying "We all have an incurable disease – AGING" keeps me observing the physical changes occurring in my body.
I'll soon be 75 & counting – but realize that I won't be disappointed when it's my time to go.
* * *
His death on May 9, 2005, was conveyed to the muscle building world in the AOBS newsletter (August 2005).
He is buried in Forest Lawn Memorial Park, Cypress, California.
His tombstone memorializes his most outstanding victories: Mr. America 1955 & Mr. Universe 1956.
May GOD Rest His Soul!
May 1, 2021
Comment on this article: FEEDBACK
---
Ripped Enterprises, P.O. Box 51236, Albuquerque, New Mexico 87181-1236
or street address: 528 Chama, N.E., Albuquerque, New Mexico 87108,
Phone (505) 266-5858 , e-mail: cncbass@aol.com ,
Office hours: Monday-Friday, 8-5, Mountain time
Home | Products Index | Ripped Bks | Lean Adv. Bks | Lean For Life | Recommended Bks | |Consultations | Posing Suits | Tapes | To Order | Feedback]
Copyright © 2021 Clarence and Carol Bass. All rights reserved.